this is not an abandoned blog.  It has temporarily fallen from my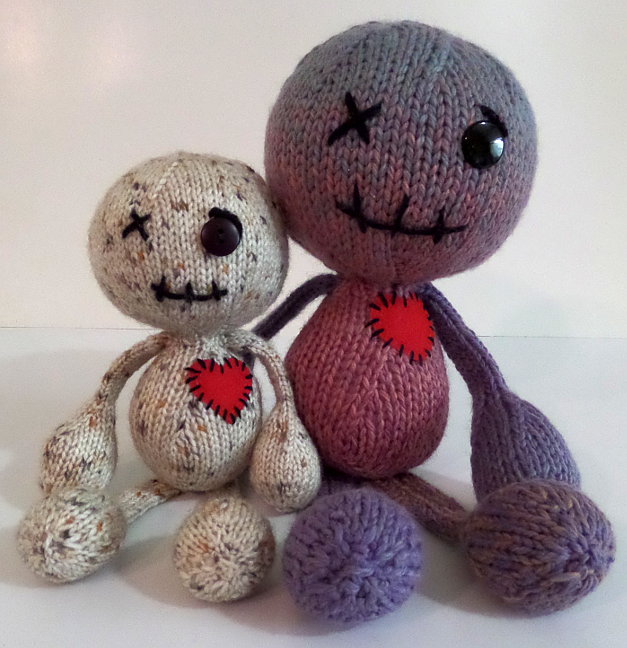 Priority List.  I've remained busy, though not feeling 100% social.  This is the reason for the long silence.
I've continued to knit but headed in a different direction from my typical socks, washcloths, scarves and hats.  I decided to try my hand at amigurumi and fell in love with "Voodoo You Love Me" pattern by Susan Claudino.  After knitting the smaller one using suggested worsted-weight yarn, I decided I wanted to try making a larger one and ordered bulky-weight yarn.  As expected, it turned out bigger.  The small one has been gifted to my son's special lady and the larger one remains with me.  They were a fun, fun knit with each developing its own personality.
I then took a little break from knitting and made another twined rug.
This rug was made using t shirt knit fabric strips leftover from making Jacob's last rug.  I frankly have enough fabric still to make several more, though I've run out of places to put them but since I have no plans for these fabric scraps, I'll continue to make rugs.  They take up less space than the fabric and make terrific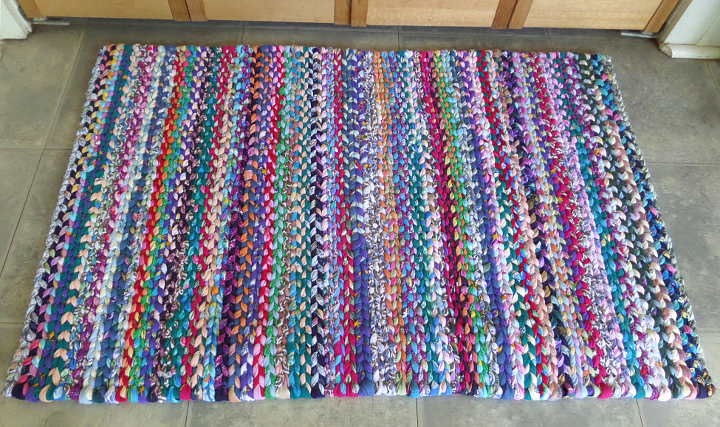 heirloom-quality gifts.  This one remains rolled up and stashed under my craft table.
I next decided to eliminate some leftover bits and bobs of yarn that have collected over the past couple of years.  I ended up making 4 knitted nap mats (one not pictured) for my dogs, of which the first two now reside at Jacob's house.  I originally hoped these could be used as rugs but their weight is just too light.  The dogs love them though so not a wasted effort.  They are easily laundered and the dogs arrange them as they wish.
The three pictured were made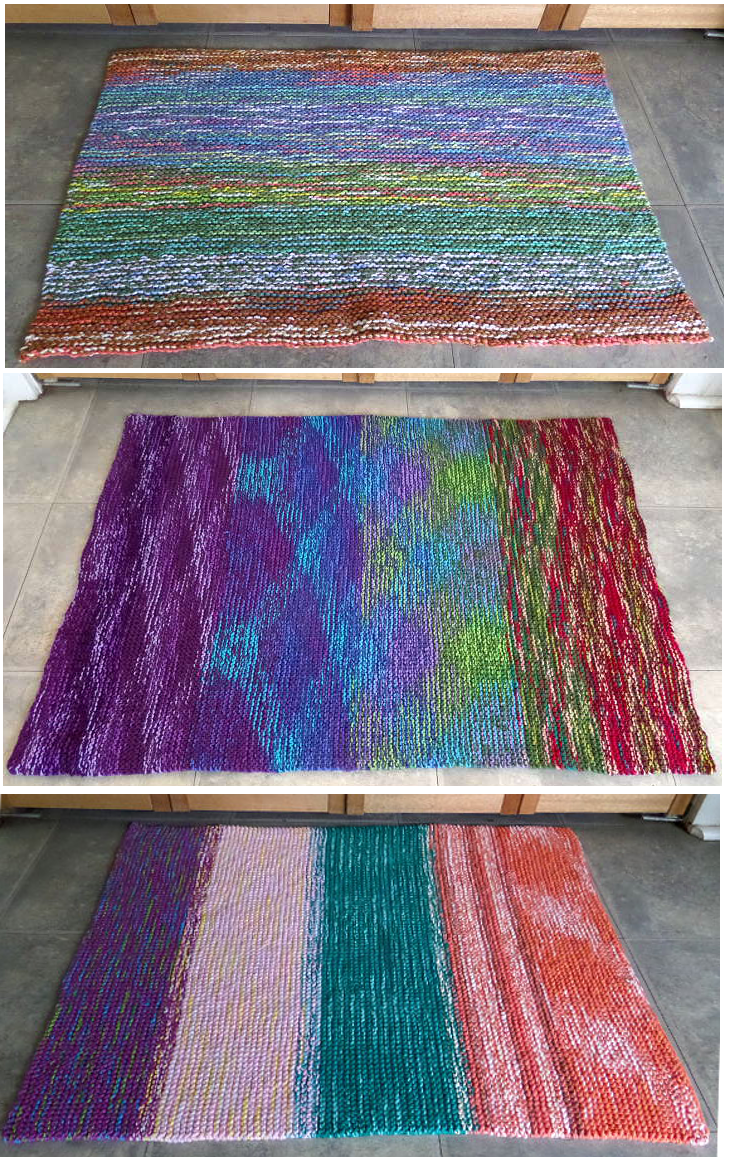 using worsted weight 100% cotton yarn (leftovers from making washcloths).  I held two strands of yarn together as I worked to make the mats somewhat thicker.  The fourth rug (not pictured) was made using bulky yarn in a similar striped design.
Each finished at a different size but large enough for my big dog (Coalie) to lay upon comfortably.
Speaking of Coalie…. he became very ill in August.  First, we suspected he had ingested poison.  He refused to eat and each day he became more and more listless with a high fever.  Because of his past abuse (tied and beaten severely prior to our rescue), there was no way for me to collar and leash him for a trip to the vet.  I refuse to put him through that stress. He is also too heavy for me to lift into the car!
I did contact my vet and with Coalie's symptoms, we thought either poison or snakebite.  As the days went on, Coalie became too ill to urinate outside (which caused him incredible shame) but I continued to talk and tend to him as I mopped puddles.  After nearly a week, Coalie decided to try and go outside but was too weak to make it back inside.  By this time, he had developed a huge, draining abscess on his side (common with snakebites).  Because of this wound, he had a slight odor and I was afraid to let him stay outside in fear of coyotes or other critters being attracted to him.  I loaded a pistol and sat outside with him most of the night with Coalie's head in my lap, making sure nothing bothered him.  At dawn, he gathered enough strength to stumble into the house and back to his bed.
He did not eat for 12 days but continued drinking water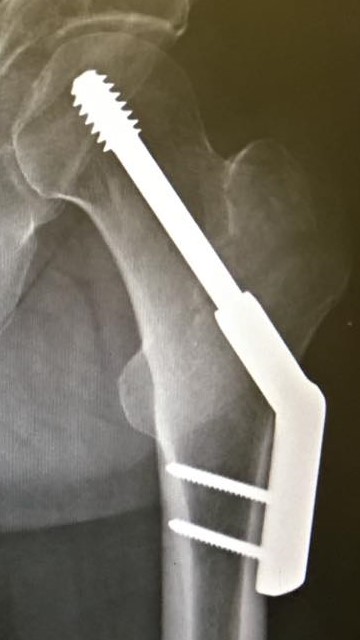 throughout his illness.  I truly believed he would die and for several days, I thought his death was imminent.  I cried many tears for this dog.
Today, he is nearly completely back to his old self but his personality has changed a little bit.  In the past, he was DH Bob's loyal companion and since Bob's death, he has accepted me as his 'person'.  Since his illness, he is now closer to me and acts more appreciative for the things I do for him with constant closeness and lots of hugs.  He's a great dog and I'm so glad he survived.  He is gaining back his lost weight, the large wound on his side has healed and his fur has begun growing back.
While Coalie was sick, I got one of those phone calls every mother dreads.  Jacob called to let me know he had an accident on his scooter and was in the emergency room awaiting a visit from the orthopedic surgeon.  His femur (near his hip) was broken and required surgical attention.  He also had a superficial scrape on his chin from the face shield of his helmet.  Surgery was scheduled for the next morning.
This is his xray including his new DHS device.  Amazing!  It looks like a bent shock absorber with screws.
Jacob is doing surprising well and at 6 weeks post-accident, only has a slight limp and walks without assistance from a walker or cane.  He religiously sees his physical therapist who is happily surprised with his progress.  I attribute his quick healing to his hardheaded determination to completely recover.  I am proud of the way he has dealt with all this.  He's good at 'adulting'.
Our new cool, very rainy weather is an indication to me that WINTER IS COMING!  I've set aside rug-making to focus on knitting a couple of wooly hats for gifts and sewing some warm casual clothes for myself.  I've also devoted some time in making soups to freeze.  I love having homemade 'convenience' foods available.  I currently have homemade spaghetti sauce, beef/veggie soup and shrimp/okra gumbo ready to thaw, heat and eat without much effort.  Soon I hope to add homemade beef/bean chilli to the arsenal.
Have a terrific week!
Shirl