I realize it's been a while since I last blogged.  During that time,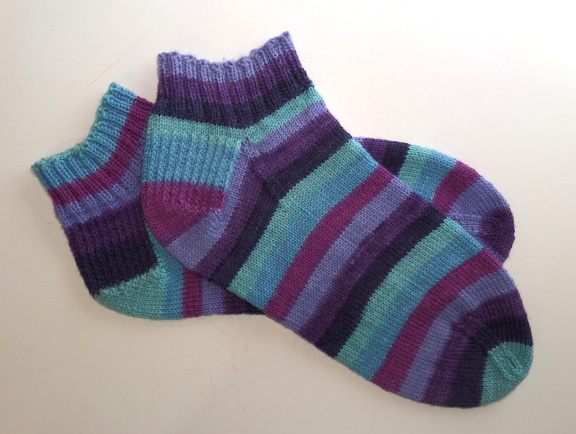 I've actually written several partial posts without managing to finish.  I'll attempt to actually finish this one!
As always, I've stayed busy doing this and that in addition to the normal chores of life.  I simply can't sit idle as I watch movies or listen to music.  The hands must be busy!  As winter turned to spring, I knitted a pair of sock for myself.  This is a first!  Before they were finished, it became too warm to wear them but I assume cold weather will return again.  These socks were knitted with Knit Picks Felici yarn in colorway Captain Nemo.  I used a slightly altered version of Shireen pattern I've used in the past.  It's an easy knit.
I also made some socks for a friend.  Because his feet are narrow, I decided to make 2×2 ribbed socks from cuff to toe (no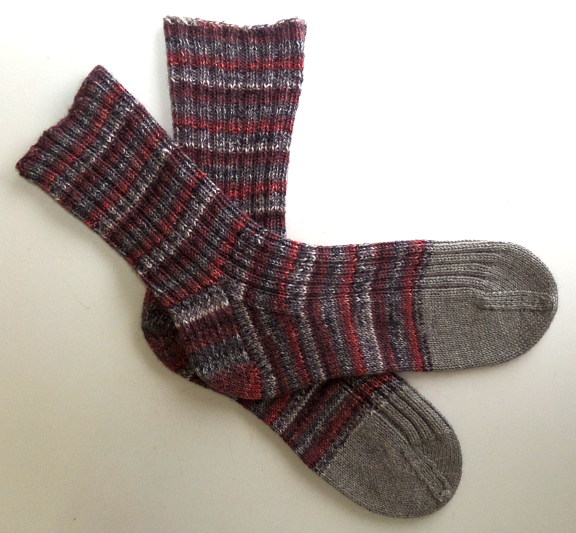 pattern).  They will stretch to custom fit his feet.  I used Lang Jawoll in a marl gray and red self striping (902.0059) yarn.  The toes are made with Valley Huntington yarn in colorway Light Gray Heather.
I am now officially burned out of knitting socks (for now).  Time to make something else.
I've begun knitting another Sockhead Slouch Hat.  I knit over half of it but didn't like how it was turning out so ripped it out and started again.  I'm only a little over an inch into it so it will be a while before completion (if ever!).  My heart just isn't into knitting presently which I think is mostly influenced by hot weather… and boy, it's HOT!
Also lately, I gave some thought to rug making again.  The last two were made from cutting up DH's tshirts.  I gave one to Jacob and kept one for myself.  I really like it a lot!  It made me think of making rugs using my own tshirt fabric.  Because I make my own casual cotton knit shirts, I have a 25 year collection of leftover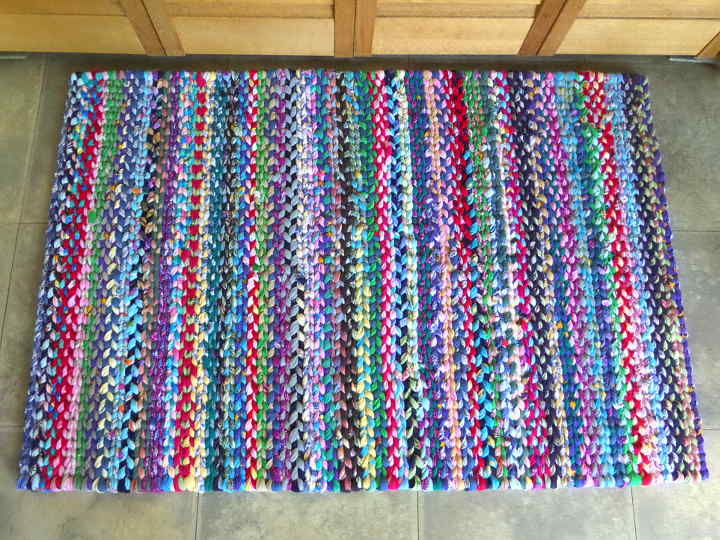 scraps.  I dug them all out and was surprised to discover a small mountain of fabric.  It's definitely time to reduce the pile!
I found some muslin to cut and warp the frame.  I then dove into the cotton knit fabric and cut literally hundreds of strips for twining the rug.  After two weeks, I had a lovely, snugly, absorbent rug.  When I mentioned it to Jacob, he quickly hinted how much he would love to have another rug.  Since I already have 3, this one will go to him.  After all, that mountain of fabric has diminished very little.  Upon finishing his, I immediately warped the frame again and began another.  It's currently over half finished.  Sadly, the mountain is only dented so I hope to continue making rugs.  There is no shortage of places to put them or people who want them!
My century+ old magnolia tree is in full bloom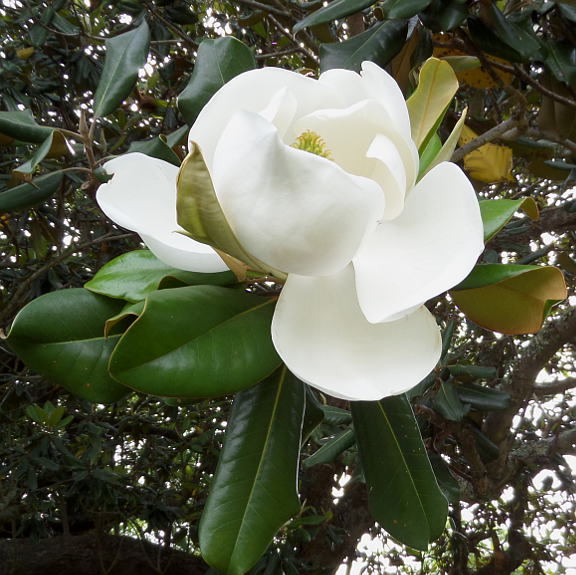 and with this winter and spring rains, it's absolutely loaded with blossoms.  I go out each morning before dew has dried to smell the wonderful fragrance of their lemony perfume.  When I can reach one, I bring it into the house to enjoy all day.  So, so beautiful!
Though I try and distract myself, this is the hardest time of the year for me as the two-year anniversary of DH's death approaches.  I think of him often and cry a few more tears.  The house is just too damned empty and quiet!  When I get too melancholy,  I crank the lawnmower and work it out.  There's always grass to mow!
Shirl