Since the weather here in East Texas has cooled, I've been outside enjoying it.  I've spent several days mowing near the house.  I really wish I could mow it all (just less than 6 acres) but all I have is a push-type mower and am the sad owner of ruptured and spun spinal disks.  I don't dare get back on a riding mower or tractor.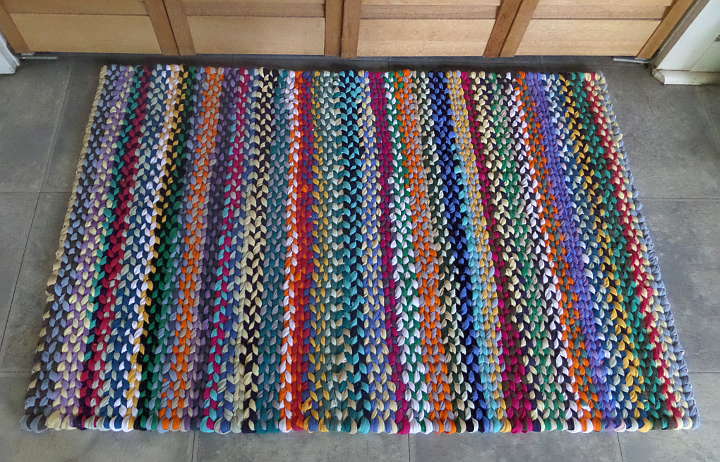 Though it sometimes doesn't seem worth it, I've continued cooking for myself most days.  On other days, I eat leftovers (which I don't mind).  I also cook for the spoiled brats dogs.  This week, they shared 10 lbs. of roasted chicken with me.  Later, we'll eat pulled pork.  My dogs eat better than most but I only feed them meals that cost less than dog food!
I've devoted most of my evening attention to finishing the rug using DH Bob's old t-shirts.  I completed it this afternoon and am anxious to present it to DS Jacob.  I only have a few t-shirts left but combining them with many of my own that I don't wear, I should have enough to make another rug for myself.
After racking my brain for a use for DH's many white athletic socks, I've decided to cut them up to use for stuffing dog beds.  My critters like their current beds in my office but sleep on thin rugs in my bedroom at night.  With winter coming, I know they would appreciate having warm, snuggly nighttime beds.  What other use do I have for a huge laundry basket stuffed full of socks?  Wish I could find a clever use for men's underwear!
Shirl