The String Pyramid (Bob's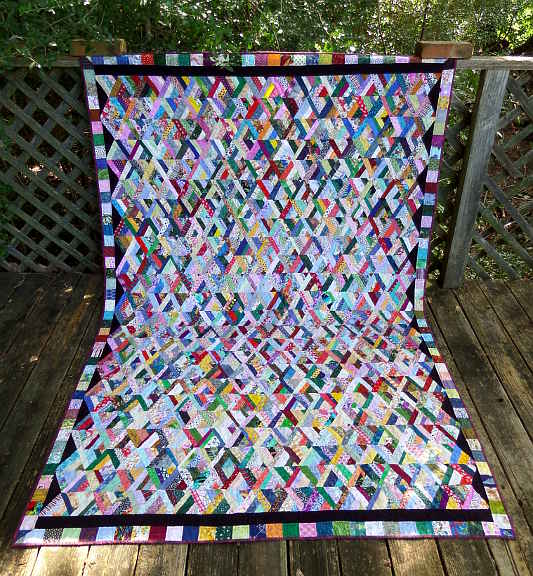 Memorial Quilt) is finished.  All that remains is making and attaching a label and this task will be done as soon as the supplies I ordered arrive.
When I first began stitching the triangle units on my Singer treadle machine, I loved the process but didn't care much for the appearance of the units when stitched together.  I showed them to DH and he loved them and asked if I would make something for him incorporating the units.  Together, we decided to make a single-size lightweight quilt he could wrap up in while relaxing or use on his single bed.  He selected a lightweight batting and everything else came from my scrap bins.
The larger the quilt grew, the more it grew on me.  I will proudly display it on Bob's bed while wishing he had survived to enjoy it.
To read more of the steps in making this quilt, click '2016 – String Pyramid (Bob's Memorial Quilt)' in the left column under 'Finished Quilts'.
Finishing the quilt left me with idle hands (like there's not several other projects awaiting attention), so I decided to begin another rug.  This one will be made from Bob's old,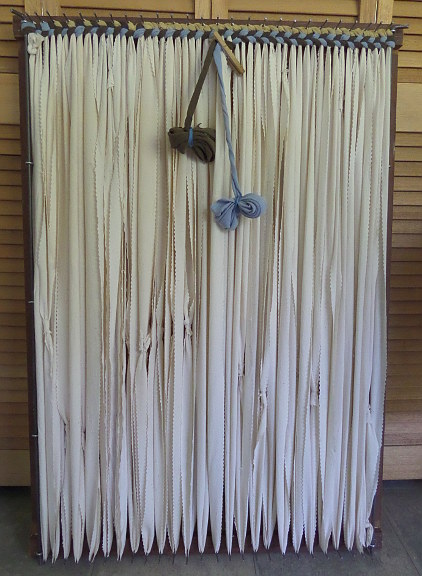 stained, worn t shirts.  I'm cutting them in long strips so I expect the rug will be more striped rather than chaotic like the scrappy rugs I've made.  We shall see!
After making the denim rug, this one is a pure delight!  The warp strips are made of good quality muslin and I've only begun the twining.  The t shirt strips are soft and pliable (unlike the denim) and will make a wonderfully soft, absorbent rug.  I love it!  It's such a terrific way to use these old shirts and more beautiful than cutting them into cleaning rags.
I'm hoping there's enough shirts to make 2 rugs; one for Jake and one for me too!
Have a great week!
Shirl