Yippee yea!  It's finally done!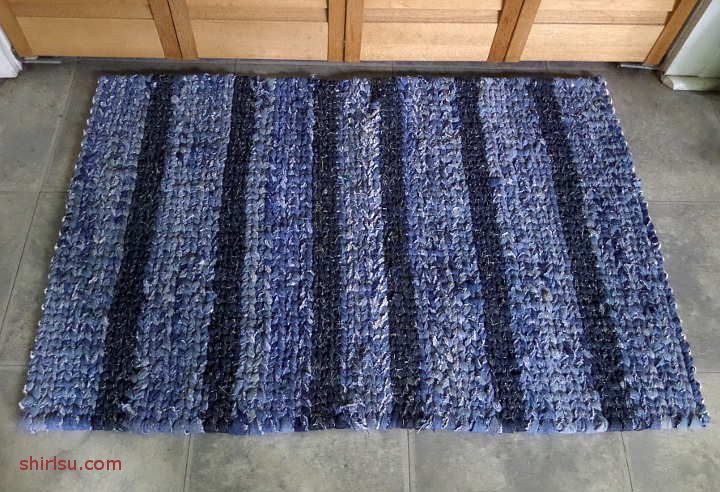 The denim rug is finished and ready to greet folks entering our kitchen door, or for that matter, bid them adieu as they leave.  It's a tough rug so I'm confident it can stand up to lots of foot traffic… for decades!  I love it's made from our own old jeans though it added much work to 'de-pocket', 'de-seam' and cut into usable strips.  I only used the back section of legs as our old jeans fronts are always worn to rags.  I estimate 30+ pairs of jeans were used to make the rug with scraps to spare for future projects.
Between rain storms (and we've had PLENTY!), I've harvested more garden veggies.   Yesterday, DH and I made stuffed bell peppers using not only peppers from the garden, but also home canned tomatoes from last season.  We added meaty spaghetti sauce from the freezer (also with home canned tomatoes) that DH made several weeks ago.  I have to say these were the very best stuffed bell peppers I've ever eaten!!
DH is feeling stronger each day but is still experiencing pain in his upper chest/shoulder area.  He's waiting to hear back from the doctor's office for his next appointment.  Hopefully, they will finally figure out the cause and treat it.
It's another rainy day here so I think I'll drag out an unfinished quilt and add some stitches.  I have several at different stages so a variety of work from which to choose.  String Pyramids is calling for attention.
Happy weekend!!
Shirl