Lately, things have been quiet on the blog but not so here at home.  In fact, when considering doctors, hospitals and our nutzoid weather, things have hedged on being crazy!
DH was approved for participating in a study at MD Anderson and was instructed to show up early Sunday, May 15 for pre-treatment tests.  He had to leave here at 4 a.m. to arrive on time.
After several tests and during an EKG, DH mentioned experiencing pains in his upper chest near his shoulder.  The techs immediately called an ambulance to transport him from the Clinic side of the complex to the Emergency Room.  There he stayed for several hours, hooked to a heart monitor and EKG.  It was deemed he was not experiencing a heart attack and was released.  With traffic backed up for 50+ miles because of a double fatality accident, DH did not arrive back home until after 1 a.m.  It was certainly a LONG day for a guy feeling less than 100%.
The next day (Monday) DH's oncologist got wind of the Emergency Room visit and test results.  She contacted DH and insisted he return to the ER as blood clots are not unusual for folks having received large amounts of chemotherapy (as DH has).  She had contacted the ER and chewed ass, instructing them of the blood clot possibility and the immediate need for a CAT scan.  Unfortunately, this meant Bob had another 3 hour drive in less than optimal conditions.  Though I offered to drive him, he was determined to arrive on his own and return home that evening.
As it turns out, Bob's plans didn't pan out.  He was run through a battery of tests by the ER physicians (amazing what an ass chewing can cause) and Bob was in the hospital until the following Sunday when he insisted on coming home.
On Monday, DH was contacted by an MDA's heart physician, instructing Bob needed a stent procedure to be performed at Hermann Hospital on Wednesday.  Bob was to check in at 7 a.m. to be prepped for the procedure.  Yep, you guessed it…. another EARLY morning, 3 hour drive to Houston!!!
Our son and his lady were already planning an extended visit over Memorial Day weekend.  They altered their plans a bit, took a few extra days off and arrived late Tuesday night to accompany Bob to the hospital.  Bob was to stay overnight so the kids decided to get a room near the hospital to avoid an additional round trip to Houston.
While all of this was going on, I stayed home and held down the fort with our small business, tended the garden and cared for our critters, all during epic rains, round after round of lightning storms, hail and area tornadoes.  Thankfully, the worst of the weather skirted us and other than being very soggy, we were unscathed.
While everyone was away, I decided we would need lots of food for the returning troops so I thawed a small turkey and a big brisket.  On Saturday, Bob and Jake slow-smoked both and with the addition of garlic mashed potatoes and au jus flavored with diced onions, we ate until we were silly!  There was plenty left to share with the kids and freeze for quick, easy meals later.
The kids left for home mid-day yesterday.  The house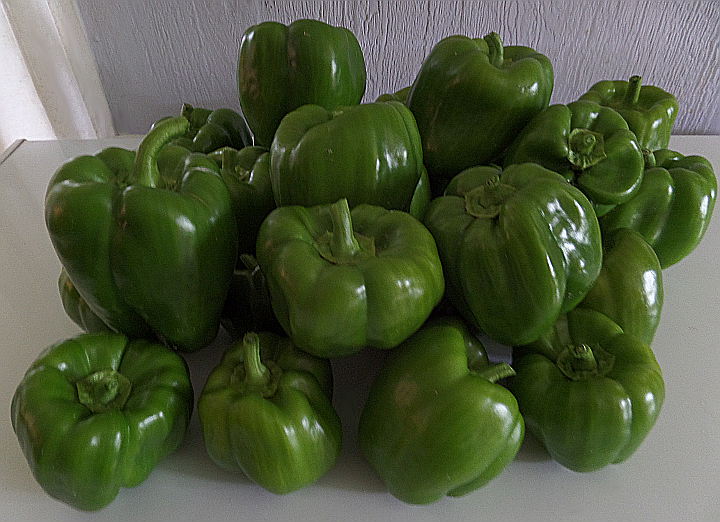 is now too quiet and I have unspent energy.  I decided to harvest the first row of bell peppers and process them for the freezer.  I also picked enough zucchini squash for a big side dish for dinner tonight and a few Cubanelle peppers to cook with freshly picked yellow squash tomorrow.  I saw many jalapeño peppers to harvest in the next few days.  All these peppers will add so much flavor to future meals.
I've continued to work on the denim rug and am very close to finishing.  I've also done a little sewing, making comfy shorts for Jacob and hemming some shorts for myself.
Bob continues to feel better each day and is now spending time out of bed and watching videos.  His coloring is better too.  As soon as his heart doctor releases him, he will start his new cancer treatment…. more weekly trips to Houston!
Shirl