After experiencing a freeze just before Easter, we've planted more in the garden.  We currently have 30 tomato plants, 18 bell peppers, 12 cayenne and jalapeño plants, a short row of cucumbers, yellow and zucchini squash, cantaloupes and watermelons.  We've decided against planting peas this year as we still have lots in the freezer from last season.  This frees up lots of space.  If the garden is as successful as it's been in previous years, we'll have plenty of produce to enjoy fresh and to can.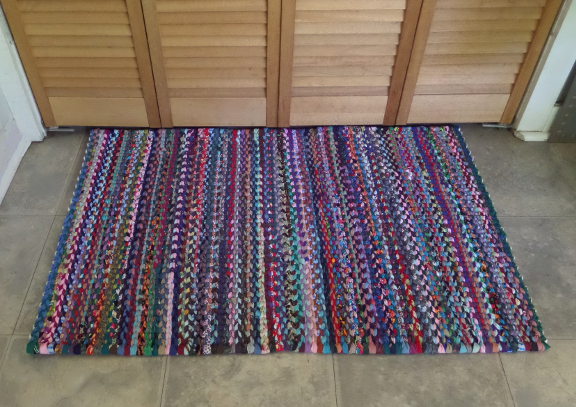 I purchased a new car last week.  Kia has brought out its 2016 models and offered irresistible discounts and incentives on the 2015's still on the lot.  I took advantage and bought a Soul.  The entire experience was completely painless as I had no trade-in to negotiate and with perfect credit, I wasn't required to make a down payment and got 0% financing!
I've continued to enjoy making rag rugs and finished my second one.  I'm now debating whether the next rug will be made with denim from old jeans or the large stash of rip-stop nylon.  Either will be fun and very useful.
DH is trying to cram his week with outdoor activities.  The weather is beautiful and he wants to thoroughly enjoy it before he starts another round of cancer treatments next week.  His hair has grown back wonderfully thick and curly (more so than before) and I hate to see him lose it again.  I'm thankful he will have reliable transportation for the long trek to Houston and I'm hoping this round is not as hard as the last.  We don't really know what to expect.
Shirl