For the past week, there has been a radical slow down of any production from me.  I have a blown disk in my neck causing stiffness and pain radiating into my left shoulder.  This has happened before so I'm familiar with the pain, treatment and exercises to perform.  Unlike the past, I don't know
what caused it this time.  The only unusual activity I've done is pick a few dewberries along with DH, denim rug wrestle and hoe weeds in the garden.  Shoot, regardless of the cause… the pain is the same.
DH has managed to pick dewberries twice so I've made muffins with fresh berries and froze enough to make four more batches.  I love cooking with dewberries and wish I had more.  They make the best jelly in the world but because of the late freeze this Spring, our crop is limited and the individual berries aren't very large.  They are still so tasty!
Until my shoulder pain became too severe, I've continued to slowly weave the denim rug.  As it gets closer to finished, I've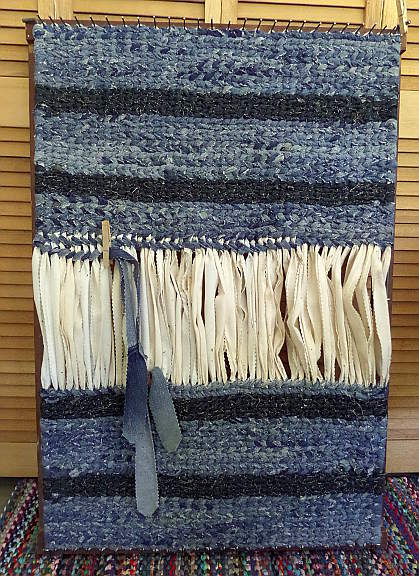 gotten more and more excited.  I love how it looks and am anxious to use it in our kitchen.  The design is made of 10 rows of faded, recycled denim (from our own old jeans), then 5 rows of new midnight blue denim fabric from my stash.  I'm not delusional that this design will finish evenly so it remains to be seen how the rug will appear when done.  It may have a wider or narrower dark stripe in the center.  Either will be attractive and the rug will be so fun to use!
For the next rug, I plan to use the huge stash of rip-stop nylon from my fabric stash.  Most of the colors are bright and I will use the rug outside the kitchen door in the carport where it will handily eliminate so much sand from being tracked into the house… at least, that's my hope!  It will be a great way to reduce that space-eating, large collection.  It's time to use it or chunk it and will be so much softer, more pliable and easier to weave than denim!  I'm looking forward to it.
The garden continues to flourish with multiple little veggies on most plants.  If the weather holds and we have no hail, I will have plenty of tomatoes to can and gobs of bell peppers to chop and freeze.  I use ½ – 1 bell pepper nearly every meal I cook  so having them chopped and frozen will be very convenient and save much time during meal preparation.
Jacob and Stormy are planning to visit this weekend.  There are problems on our Internet network needing Jake's magic touch.  Blasted lightning!!  I'm soooo looking forward to seeing them and have begun planning menus, doing a little cleaning and clutter busting.
No matter where you are or plans you've made, I hope you have a joyous Mother's Day weekend!
Shirl