12/29/13:  Saw a demo online on making Wonky Star blocks (Bonnie Hunter's – Wonky Wishes).  Looked like great fun and since I just tuned up my vintage Singer 301, I thought I'd give it a go.  Before I knew it, I'd made several. 
They are great fun to make…. I don't have to match points or color within the lines….the funkier the better!  Have no clue what I may do with these 6″ blocks but anytime I feel a little wild, I'll make more!
10/08/14:  Since I finished hand stitching 'Urban Renewal', I was in the mood to do some machine piecing.  I dug out this UFO (Un-Finished Object) and played.  For some reason, I was under the impression 30 blocks would make a nice size sofa quilt.  WRONG!  30 blocks only make a nice size DOG quilt.  Today, I'm cutting more fabric for more blocks while I contemplate my next hand stitched project.  It's a toss up between hand quilting a finished top or starting a new one.
02/21/15:  I've once again dug this from the UFO pile and stitched more blocks.  I like how the stars appear to be twinkling in a funky, silly, wonky way.   I now have enough blocks to make a nice-sized sofa quilt.  Today, I'll begin stitching them together and deciding on borders.
03/22/15:  After measuring the width of this sofa quilt, I decided it would benefit from another row (10 blocks) of stars.  I finished making them today and have stitched the rows together.  It currently measures 59 ½" x 48″.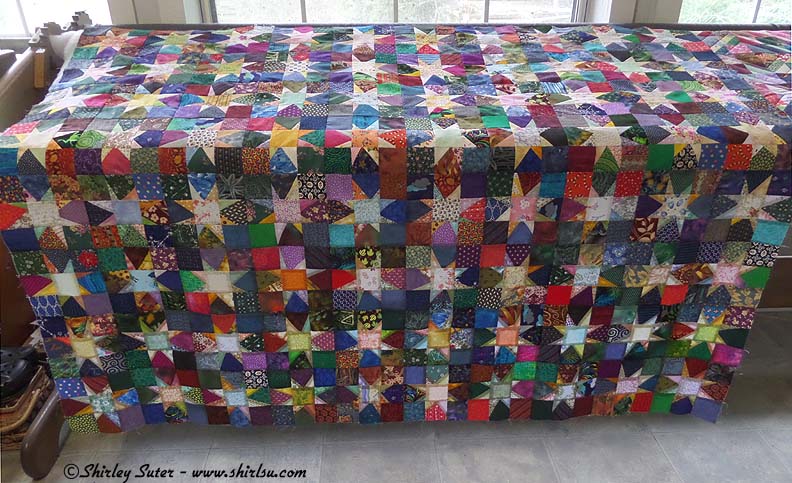 04/23/15:  Scrappy border has been added and basting is done.  Quilting has begun.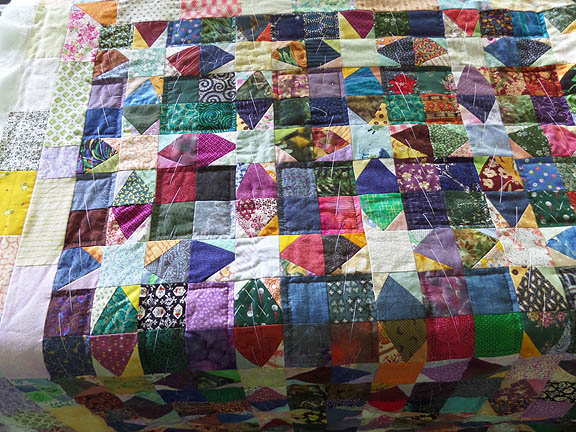 05/05/15:  Finished quilting the four patch squares and am half finished with the stars.  Haven't decided how I'll quilt the border.  It's coming along!  Here's a picture of the back: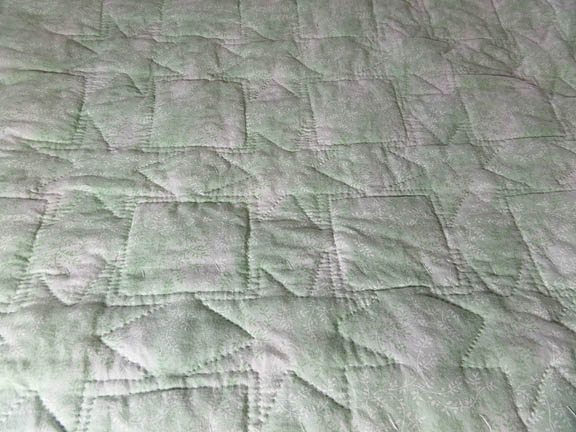 06/19/15:  Time to stick a fork in it cuz this baby's done!!  I finished the binding last night and hand washed it this morning.   It finished at 53 ½" x 65″.  Photos and more description will follow (after I clean storm debris from the deck).
06/20/15:  This was such a fun quilt to make.  When assembling the blocks, I simply pulled out my pre-cut 2½" squares and separated them into dark and light for the backgrounds and star centers.  The star points were pulled from my ever-growing tiny scraps bin.  The border is made from light 2½" strips and the label was (obviously) hand embroidered on a fabric scrap.
The stars were quilted near the ditch and the 4-patch segments were stitched  ¼" from the ditch.  The border was quilted in a design known as 'Woven' from a stencil I made myself.  I like it and will use it again.
After reading Bonnie Hunter's tutorial for narrower bindings, I decided to give it a try using trimmings left over from the Split-16 quilt already on the cutting table.  I love how fate can often provide the perfect materials for a project!  Thanks Bonnie!  I absolutely LOVE the narrow binding and will use it often.