By shirlsu 0 comments (leave a comment)
It's been 100°+ each day this month so it makes no sense to start a new quilt.  It's not that I NEED another quilt; it's that I need to MAKE another quilt.  I still have lots of fabric and loads of scraps I've hoarded collected through the years so I should use it.  Time to make a mess!
With it being too hot to do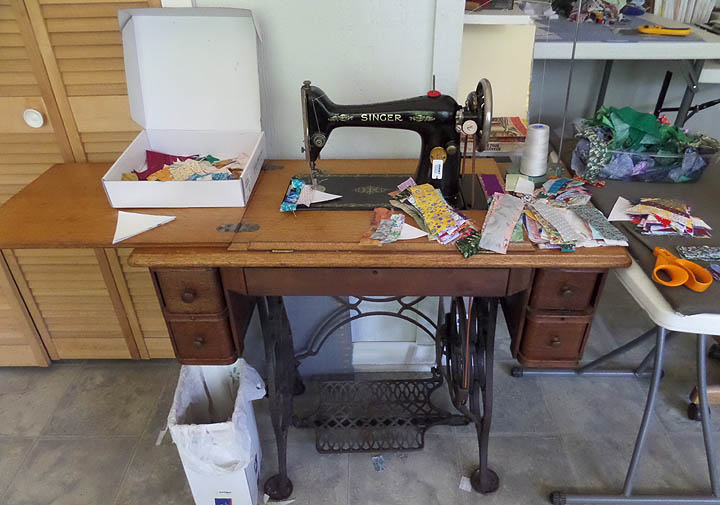 anything outside, I decided to get some exercise indoors by using my Frankentreadle (Singer/National) sewing machine.  It has been patiently waiting to be used for over a year and it was due for a cleaning and oiling.

The pattern selected was seen on a quilt blog long ago.  I thought it would be a great way to eliminate some of the scraps I've accumulated.  I cut the paper foundations from discarded/used printer paper.  It hurts me to throw away the gobs of paper that pass my desk each month.  It is all perfectly good for foundations.  I drew several 5″ equilateral triangles on one sheet, scanned it and printed a number of foundations.  They were stacked one printed foundation atop 4 other sheets and cut with a metal ruler and snap-blade knife.  In no time, many foundations were ready.
I have several boxes of various widths of fabric strips so it is easy to grab and chain stitch the triangle units.  With my ironing table close at hand, I'm able to press the seams as I go to keep them flat.  After several hours of treadling, I trim the units, remove the paper and they are ready to hand stitch into rows.  I enjoy hand stitching as I relax with a movie or two after dinner.
I love using this old machine and the closeness I feel to my grandmother as I place my feet on the treadle peddle where her feet once were.  The Singer machine head reminds me of my mother who made many clothes for me on one exactly like it.  As a young child, I learned to sew on that machine before it was replaced in the mid 1950's.
Shirl