By shirlsu 0 comments (leave a comment)
Though I've been crazy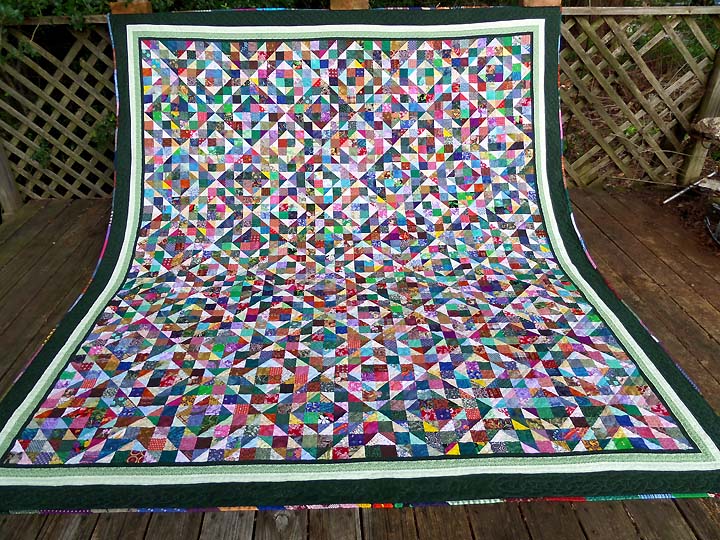 busy canning our garden's bounty and tending to a sickly spouse, I've managed to add another finish to the list of recent accomplishments.
This is my Scrappy Split-16 quilt which was machine pieced starting in February, 2013.  After piecing the body, I was baffled by what border I should use.  I auditioned several, some pieced and some solid and was never really pleased with any of them.  I settled on on a thin solid green frame, then two lighter green borders and finally a mottled green strip.  Little did I know I would run into an equal dilemma deciding how to quilt them.
I sped through quilting the body of the quilt, hoping for inspiration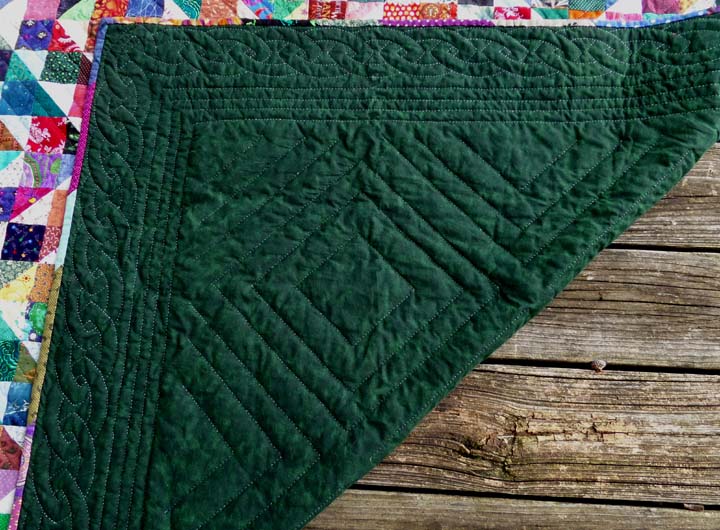 for the borders.  It never came so the partially quilted top languished in the frame for a while; for a time; for a LONG time.  Still I remained uninspired.
Upon noticing how dusty the quilt had become, I gave myself a sharp kick in the behind, gave the quilt a quick vacuuming and pulled out the stencils I have.  I selected one that would fit in the space and marked the border for stitching.  It didn't matter if it was or wasn't the design of my dreams… it ended the nightmare of an unfinished quilt in the frame.
I stitched and stitched the design until the quilt was done but because I had stitched my name, date and location when I first started, I had to change 2013 to 2015.  Easy enough!
When I removed the quilted top from the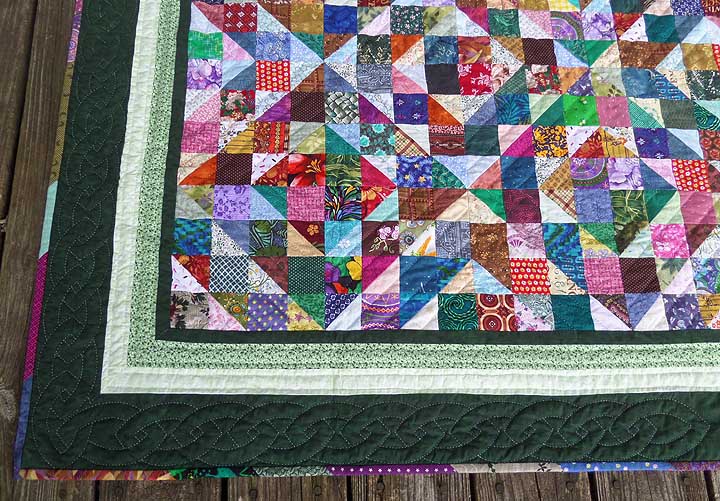 frame, I asked DH how he thought it should be bound.  He said I should piece a binding to match the scrappiness of the quilt body.  Instead of thinking too much and stopping the process with my indecisiveness, I went with his suggestion.
I'm not thrilled with every element of this quilt but done is better than perfect!  I AM thrilled it is finished and am enjoying how pretty it looks on my bed.  That's what counts!
Shirl