By shirlsu 0 comments (leave a comment)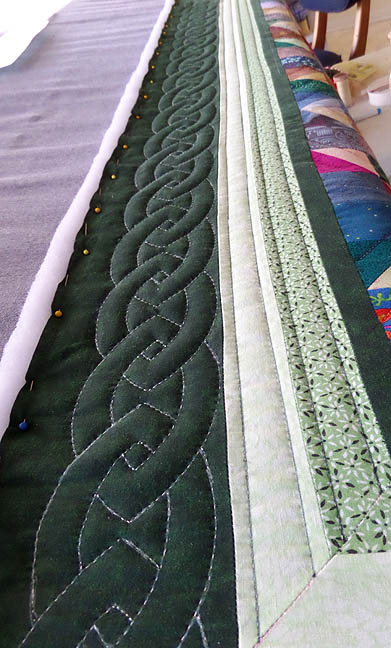 Since realizing I have not touched the Split-16 quilt in my frame for over a year, I have given it some attention.   To be completely honest, the first chore was to vacuum it.  Much dust and dog hair had settled on it.
The inability to decide on border quilting had been my stopping point and allowing the quilt a chance to brew it's own borders simply didn't work.  I had to do something!  I love this quilt and I want it finished.
Without further debate or research, I grabbed my few stencils and chose one to add to the widest border.  The 2 narrow borders are receiving straight lines of quilting.  It's enough and good enough!  I took to stitching and am enjoying the process and though I'm only partially done with one side, it's a LOT of stitching.  The straight lines require 4 passes and the intertwined links require 6 which translates to stitching all around a queen+ (nearly king) sized quilt 10 times (YIKES!).  I hope I don't get discouraged as it feels like miles!!
I work at the frame nearly every day when the light from the windows is good and reserve nighttime for stitching the Batik Winding Ways blocks.  I've finished nearly enough for a queen size top!  I hope to finish stitching the blocks and sew them together next week.  I'm still debating if it will be hand quilted in a hoop or on the frame.
Jacob is here taking advantage of the long weekend.  We are enjoying him as we feast and visit.  I've always adored being his mother but it is pure pleasure being the mom to a successful, mature, level-headed, independent adult.  Easy-peasy and no diapers!  I'm so proud of the person he is!
Shirl