1/24/14:  Started cutting and piecing segments of Winding Ways.  Hope, after paying $12 for the templates, I enjoy hand piecing this quilt top.  If it goes well, I'll make it bed size.  If it doesn't go well, I'll make it sofa size and gift it.  If it goes REALLY well, I'll do both!
2/2/14:  I was a little apprehensive hand piecing the curves on the Winding Ways blocks.  All the instructions I find either online or with the templates I purchased are for machine piecing.  Since I was in the market for handwork, I decided I could overcome any hurdles hand stitching might create.
There was no need for apprehension.  These blocks go together beautifully with only minor easing.  Thus far, I've stitched 20 blocks without a hitch.  The biggest challenge is cutting out the pieces.  They create LOTS of scraps!  My crumbs/scraps box is overflowing!
I haven't decided how big this top will be but I will continue piecing until I quit.  Currently, I'm enjoying it.  Here are some of the 8 1/2″ blocks roughly laid out:
2/21/14:  Finished piecing the main body of the large sofa sized quilt and spent last evening auditioning borders.  At first I considered adding a pieced border but every one I tried overwhelmed the original design.  I've settled on a thin black frame with a gray blender wider border.  In the gray area, I plan to add quilting in black thread.  I still need to order backing, which I expect to do this weekend.
I don't know if I'll add the borders by machine or by hand.  Thus far, the top is totally hand stitched.  It seems almost a sacrilege to introduce machine stitches but stitching around this top twice seems a lot of wasted work.  Besides me, who will notice?
I'm using extra blocks (and new ones I'm hand piecing) to make Lolita a new dog quilt.
3/4/14:  Haven't spent much time on this quilt as I've been making a shirt for Jake this week.   The shirt is done so today, I've added framing borders to this top by machine.  They are currently nothing exciting but I hope they'll be pretty after quilting.
Here's how the top looks now:
Tomorrow, I'll add borders to the matching dog quilt and sandwich both.  I'll hand-basting each.  I plan to hand quilt the large one and machine quilt the one for my dog.  I'm itching to get started!
3/11/14:  Began hand quilting the sofa quilt.  Thus far, after stitching 2 circles, I love how it looks.  Sandwiched, basted and marked the dog quilt preparing for machine quilting but haven't started the  process yet.  No rush!
4/2/14:  Finished hand quilting the main body and have marked the border.  Will start quilting that part tonight.  It's turning out even better than expected!
5/8/14:  The border quilting is complete and the binding has been machine sewn in place.  All that's left is to hand stitch the binding and launder the quilt.  Close!  With leftover pieces, I've completed one dog quilt and have blocks for another.
5/17/14:  The Winding Ways sofa quilt is finally finished!  It was set aside with only inches of binding still left to hand stitch but now it is complete and laundered.  I don't know why I allow other projects to distract me sometimes but it happens.  I'm glad I didn't let this one languish for months!
This sofa quilt was hand pieced and hand quilted.  It measures 68″ x 58″, has a narrow frame and wider border (both mitered).  The backing is a wide, dark gray fabric with black curlicues.
The hand quilting was done in a hoop, using YLI 40/3 ply ecru colored thread, following the intertwined circles.  The border is quilted in a twisted ribbon design and includes my name and date.  The binding is black.
There were quite a few remaining bits and pieces left after assembling this quilt so I made extra blocks and assembled a dog quilt measuring 42″ x 35″.  I still have enough blocks left to make another one the same size.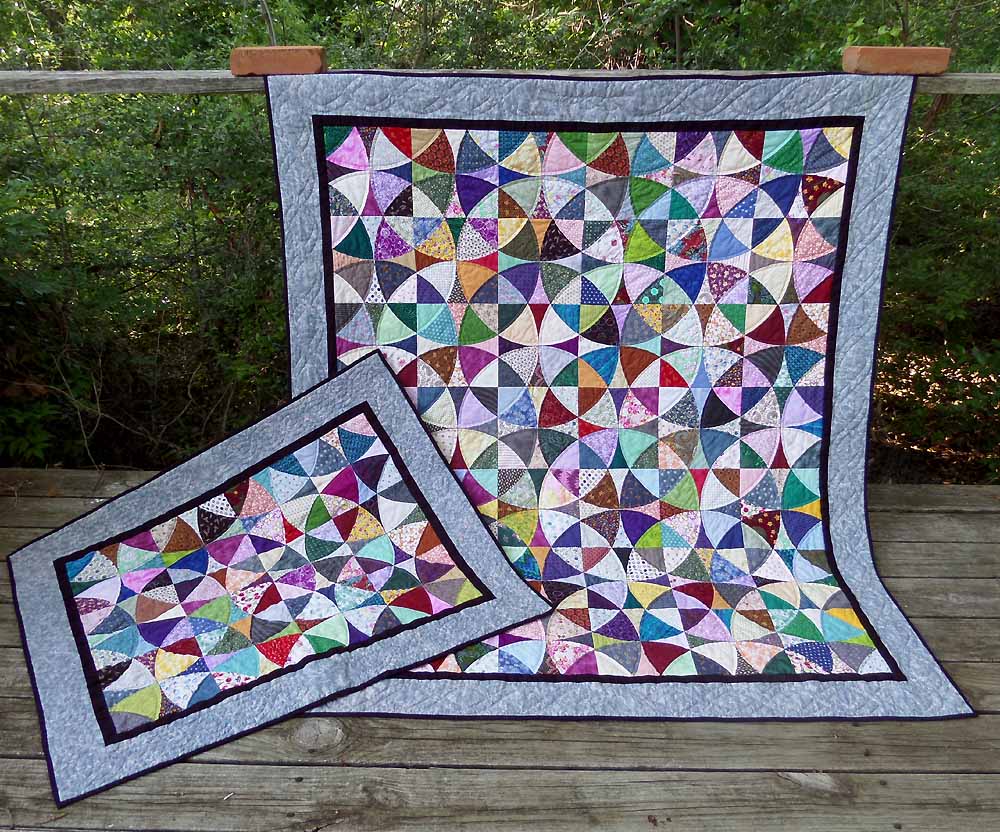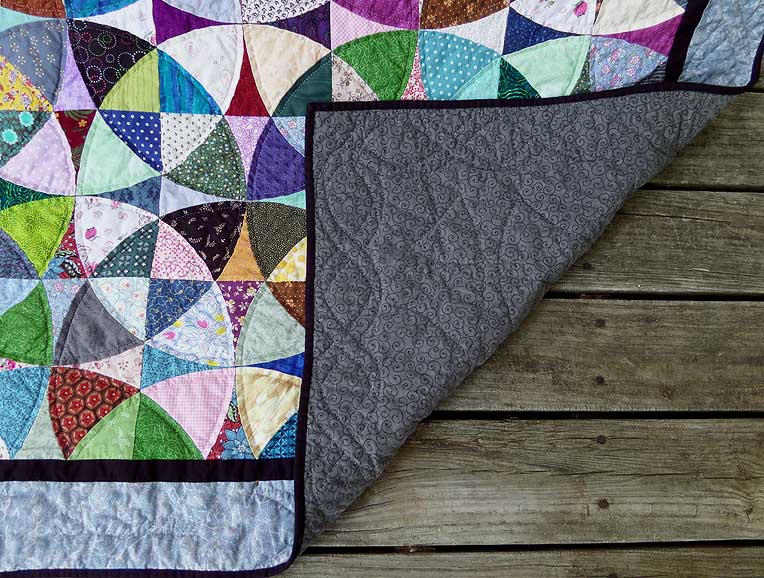 UPDATE:  06/09/14  Gifted the sofa quilt to James, who will undoubtedly give it a good home.