Today is Labor Day in the U.S. and the last holiday of summer.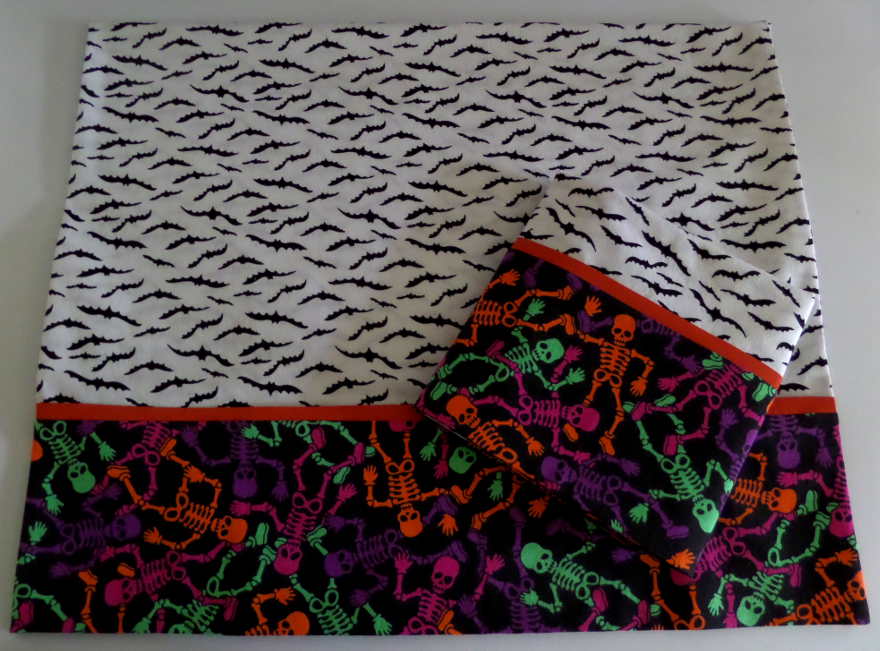 It's also the time of year the millipedes come out in amazing numbers.  If they would stay outside, I wouldn't notice or mind but they're finding their way into the house, which drives me nuts (I know, short trip!).  I have probably killed over 100 of them today alone, making it necessary to sweep the floors AGAIN!  I've tried spraying them with a mild insecticide to no avail.  They don't even drown easily!  My only choice is to continue to step on them and sweep them up.  I am thankful they don't require feeding and don't sting or bite.
I've managed to accomplish several things over the last few days.  I finished making Halloween pillowcases.  This set is made with black bats on white for the body and bright dancing skeletons on black for the edge separated by a narrow solid orange flange.  My homemade pillowcases include French seams so no raw edges will unravel with wear.  I hope to find more holiday fabric on sale to make more fun pillowcases for Thanksgiving, Christmas, Valentine's Day and Easter.  I already have some batik yardage I plan to use too.  I love having new pillowcases!
I've continued sorting DH's clothes but have found no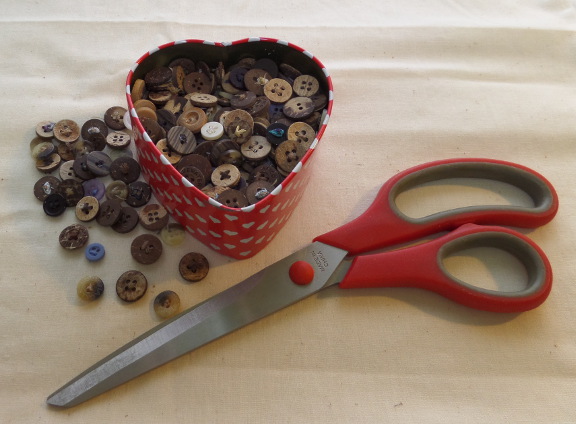 area charity where I wish to donate.  If my donations do not benefit the needy but puts more money into a corporate CEO's pocket, no thanks!  Instead, I am removing and saving the buttons and using the fabric to make dog beds.  The 100% cotton fabric will be added to my fabric stash.
As I've pulled shirts from the closet and separated them into piles of keepers and cutters, I am amazed at how many there are.  I've clipped until my back hurts every day and still have a huge stack to go.   Pictured is a container of buttons I've removed from many of the shirts.  There are hundreds of them!  Most of these are made of coconut shells with a light side and a dark side from rayon and silk Hawaiian-style shirts.  I plan to add a number of these to my own button stash and will share the rest with online friends who also make men's shirts. I certainly hope to finish this clipping chore SOON as I can think of much 'funner' things to do!  Honestly though, I'm totally enjoying spreading out into the newly created space in the closet.  Yippee!  Mine, all mine!!
I've continued working on DH's memorial quilt.  The hand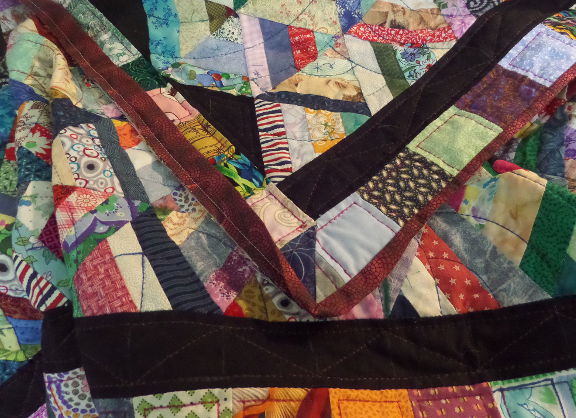 quilting is finished and a red/black print binding has been machine applied.  I'm in the process of hand stitching the binding down.  I haven't designed a label yet and hope to be inspired by the time the binding is complete.  Having recently lost my printer to a lightning storm, the task will be more challenging.  I've included a picture to show how much I tend to mark my quilts as I work.  Because I use Crayola® Ultra-Clean Washable Markers, all the marks wash away with simple hand washing using laundry powder and a little OxiClean®.
It's time to get into the kitchen and make English muffins.  I've eaten the last of the sliced bread and know I'll want something for breakfast tomorrow.  Ham, egg and cheese McMuffins sound yummy!
Have a terrific week!
Shirl