Thanksgiving has come and gone and I spent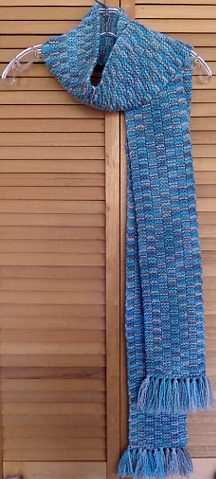 it with my dogs (they're lonesome too).  In looking ahead to a long string of holidays and birthdays, I get the feeling each is a hill to conquer.  Eventually, I hope being alone feels more natural and the hills less steep.  In the meantime, I'll keep busy and concentrate on TODAY.
The holiday wasn't too bad and I cooked and feasted as usual.  I baked turkey wings and drumsticks, sweet potatoes and the very last cream peas stashed in the freezer.  With bits of bacon and plenty of onion, those peas were wonderful!  The entire meal was delicious and I made plenty to provide for days of leftovers!  YUM!
To fill the evenings, I've continued knitting and made this turquoise and shades of grey long scarf.  It finished at 87″ x 5 ½" with an additional 3″ fringe.  I love the super-long length as it provides for multiple ways of wearing it.  It can be worn as shown in the picture, doubled around the neck or doubled with the ends drawn through.  I will be gifting it and hope the recipient enjoys it.
When the scarf was finished, I decided to use some yarn I've had for many years and make some leg warmers for myself.  I like wearing them under my boot cut jeans for added warmth in my chilly house.  I found a pattern that would offer me more practice of knitting in the round using the magic loop method.
The yarn is fairly small and the needles required were smaller than I'm accustomed to so the progress was really slow.  After knitting a lot on the first leg warmer, I remembered that I already own some nice ones.   I dug them out, tried them on and decided I truly don't need another pair, especially ones taking most-of-forever to knit.  Though the first skein of yarn was almost used, I ripped it all out.  I'll find something else to knit with the yarn.
I've also done some VERY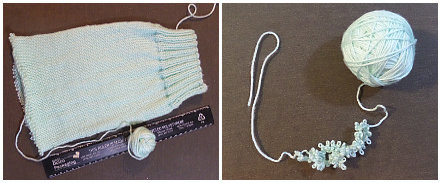 little sewing this week  From scrap fleece, I've cut out a self-drafted long-sleeved top with a kangaroo pocket.  I had hoped to include a hood but didn't have enough fabric.  I managed to get half of it sewn before I ran out of enthusiasm.  Maybe when the house gets colder, I'll be inspired to finish stitching it.  The temperature is dropping tonight so we shall see!
I hope the rest of your week is joyous!
Shirl