I've spent the last week or so very happy I don't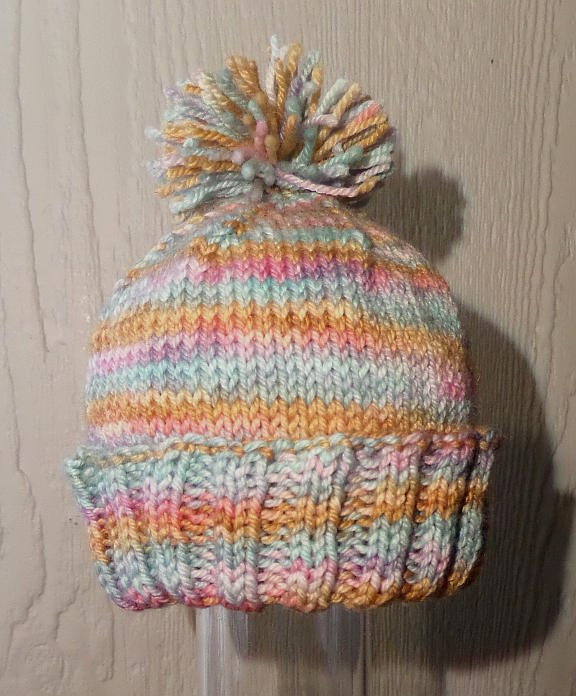 still live in Houston.  There are things I truly miss about living in a sizeable city (pizza delivery, big grocery stores, garage/yard sales, etc.) but since leaving there nearly 25 years ago, the flooding issue has gotten so much worse.  Add that to the record-breaking rainfall spawned by Hurricane Harvey and I can only feel bad for old friends still there while feeling thankful I'm not dealing with insurance companies and contractors.  I'll happily live without pizza delivery!
We did experience 5 days of rain from the storm but I'm at the top of a big sandy hill so I didn't see as much as a puddle here.  The rain was mostly slow and steady accompanied by a light breeze offering me the perfect excuse to stay inside, knit and sew.  The storm also helped eliminate the 100°+ daily outdoor temperatures.  My air conditioners, electric bill and wallet are eternally happy for the break!
While the rains fell, I finished knitting a baby blanket for my neighbor.  I haven't blocked it yet so no picture at this time.  I also knitted this little hat from leftover sock yarn.  The pattern was free from Redheart.  I was fascinated with how quickly baby items are made.  This was a one day, spare time effort and hopefully will be useful for this autumn baby.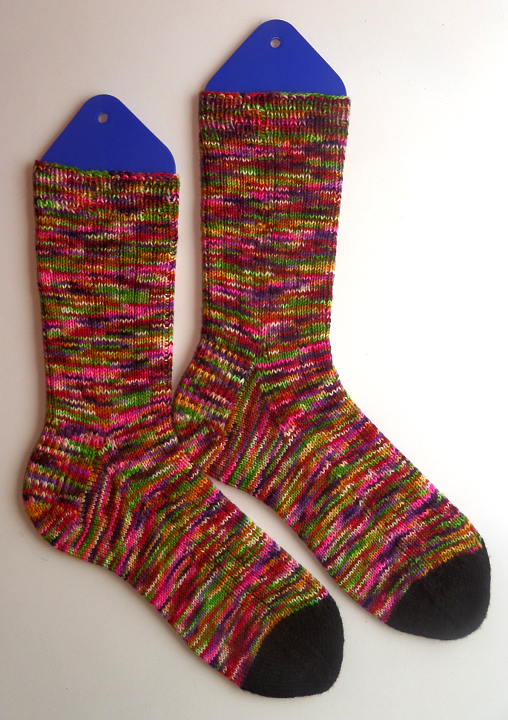 I finally managed to finish another pair of socks for Jake.  These seemed to take forever because of lots of interruptions and the fact that I dropped a size on the needles making the socks a little smaller and more densely knit (more stitches = more time).  The pattern is 'A Nice Ribbed Sock' by Glenna C.  The yarn is from A Guy Two Needles Yarn in colorway Mardi Gras.  I was a little surprised the yarn didn't pool but pretty thankful there are no big puddles of pink.  The toes were knitted with Knit Picks Stroll fingering yarn in black.
Needless to say, I've already started another pair of socks; these in NEON colors!  They will be … uhh … wild!!
I took the time this week to inspect my closet and analyze my clothing situation.  I've decided many of my tops are looking limp and dismal.  I'll take the decent ones and downgrade them to everyday wear and make a few new things.  The heavens know I have plenty of stash fabric on hand to cut and sew.
The first top was made of batik fabric.  I dearly love batik because of the hand dyed interesting artistic designs, color combinations and that they are woven more densely, allowing for opaque coverage.  The pattern I used is McCall's M5640.  I've sewn this pattern many times for tops, nightgowns and maxi lounge gowns.  It's so versatile.  The top offers loose, modest coverage even on days when bra wearing is too painful (darned surgical scars!).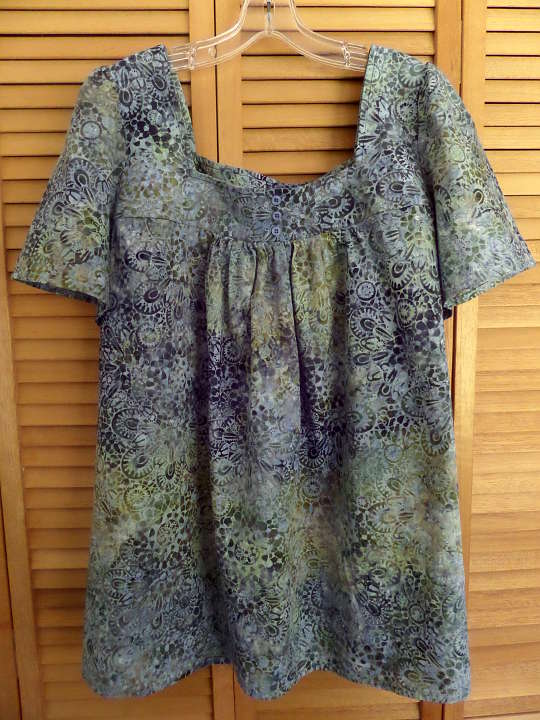 Fabric has already been selected to make two more tops and a nightgown from this pattern.
After a quick doctor's office visit with his PA and having blood drawn, I've been asked to return next week (never a good sign).  I had shown the Physician's Assistant a lesion near my ear that is lingering and doesn't seem to want to heal.  After being told to return, I've searched the Net and found photos of what appears to be the exact same lesion.  I've diagnosed myself (always a dangerous thing) with squamous cells carcinoma.  When caught early, it's pretty harmless but because it's located in a place I can't see (and I live alone), I've ignored it longer than I probably should.  It is already affecting my hearing (sounds like the ear is stuffed with cotton).  Needless to say, I'm not looking forward to seeing the doc next week for his recommendations.  If it has advanced, I could be looking at not only surgery to remove it but chemo to treat it.  UGH!
Oh well, I've survived 2 other cancer diagnoses and treatments so I expect to survive this one too.  It's a good thing I'm TOUGH!
Have a great week and those in the paths of storms, know my thoughts are with you.
Shirl