As scheduled, I returned to see my doctor.  He changed some of my medications and examined the lesion in front of my ear.  After asking lots of questions and prescribing an antibiotic, he said a lymph node was also swollen and since it is affecting my hearing, he referred me to an otorhinolaryngologist (ear, nose and throat surgeon).  Unfortunately, she may be the busiest doctor around because even with a possible cancer referral, the first available appointment is weeks away.  I'm on stand-by in case she has a cancellation.  I don't like having time to think about it but it does give me an opportunity to make plans.
Jacob has already said he would be here for whatever it takes as long as it takes.  I love that I can count on him for physical and emotional support.  He will also take care of my dogs and the business if I am incapacitated.  It's a total head scratcher how I ended up with such a wonderful son but I'm thankful every day!
I've been trying to stay distracted and busy.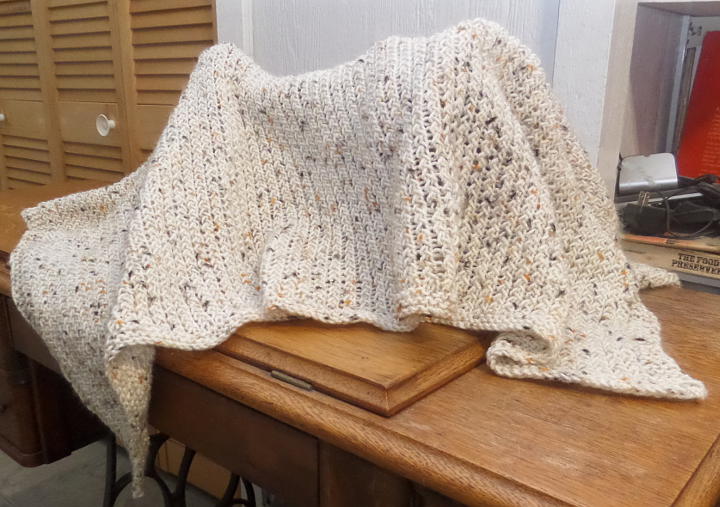 The knitted baby blanket is finally washed, blocked, boxed and wrapped along with the knitted hat for the baby shower I couldn't force myself to attend.  She was expecting a large crowd in her small home and the last thing I wanted was to be in close proximity with lots of folks I don't know.  Small talk is not my expertise!  Since the baby isn't due for 8 weeks, I'll deliver the gift in plenty of time.
I've also done a little more sewing but nothing finished to show.  After the warm-weather blouse I'm currently making, I hope to sew a few pieces for cooler weather.  As they say on Game of Thrones, "Winter is coming".
I've also been researching patterns and yarn in hopes of knitting a cardigan for myself.  Extremely cold weather is rare in my area so I prefer to wear sweaters instead of coats.  Thus far, I haven't decided on 'the perfect pattern' or yarn I can afford.  The search will continue.
As usual, I have another pair of socks on the needles and work on them at night while watching videos.  They are progressing slowly.
Another weekend is here and I truly hope yours is fun, restful and filled with love.
Shirl