My family includes several diabetics (me too!)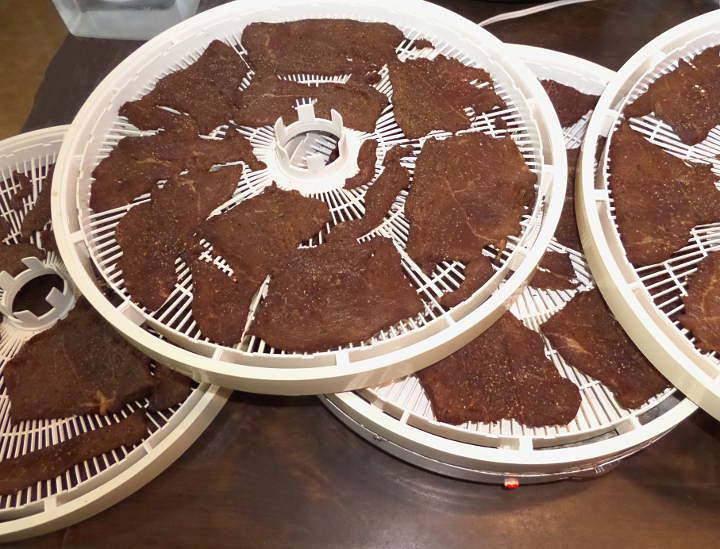 so when planning holiday food gifts, I try and stay away from typical candies, cookies and sweet treats.  Don't get me wrong, we still love those things but when making them, I cut as much sugar as possible.  I prefer to lean more toward low fat, protein-rich goodies.  In this vein, I LOVE making and giving jerky!
When my local grocer ran a sale on chuck roasts, I bought several with the idea of making jerky for holiday gifting.  I whipped up a batch of marinade, soaked the trimmed, thinly sliced beef and loaded my old 4 tray dehydrator.  The jerky turned out wonderfully but I could tell the dehydrator was struggling.  I remember my DH and DS working on it several years ago to squeeze a little more life from this 40+ year old, very used (and loved) appliance so after talking to Jake, we decided I should purchase a new one.  I can pass the old one down to him and he can fiddle with it and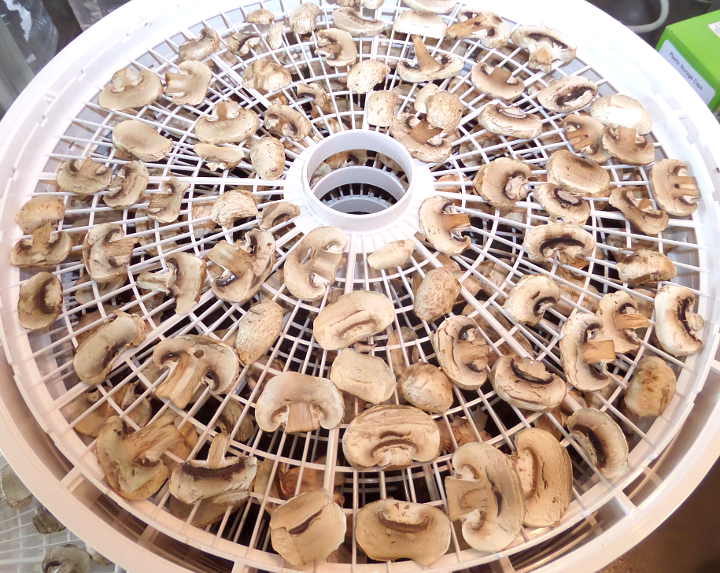 hopefully make it last a little longer.  He LOVES jerky (as do his friends) so he's excited about the prospect of making his own.  It sounded like an excellent plan to me.
Upon finding a heavily discounted model on Amazon, I bought it and the new 8 tray Nesco Gardenmaster® arrived on Saturday.  Oh my gosh, I LOVE it!  Now I can make double batches of everything and with its hefty-sized fan motor and heater (twice the wattage as the old model), foods will dry faster and more evenly.  I immediately sliced and began marinating more jerky.
As I was loading the dehydrator trays with beef today, I remembered some mushrooms I mistakenly purchased (already had a big package and bought more).  Since I still had 3 empty trays, I sliced those mushrooms and added them to the drying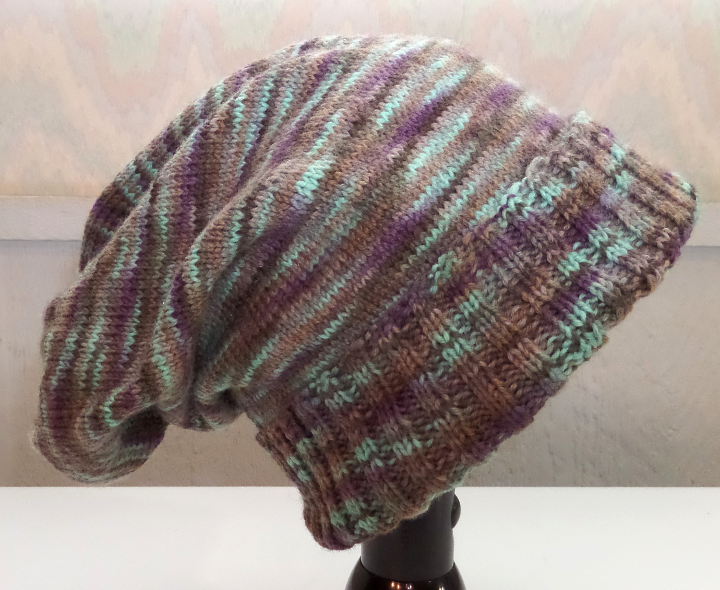 session.  My house smells AWESOME with the combination of drying jerky and mushrooms.  I will gift the jerky and keep the mushrooms to include in home cooked recipes without worries of spoilage.  Win/win!
Knowing my son and his best friend (my adopted son) are wearing knitted hats this year, I've continued to make them.  I figure if the guys like to wear knitted hats, they should have a wardrobe of 'em!  They are fairly mindless to knit and I have yarn to use and time to use it.  I enjoy the knitting and they enjoy the hats so it's a winning combination.
This first hat is another Sockhead Slouch Hat like I've knitted before.  It's a popular style with the guys.  This one used Knit Pick's Stroll Hand Painted Sock Yarn in colorway 'Coffee Shop'.  I sent it home with Jacob to give to his friend but Jake decided to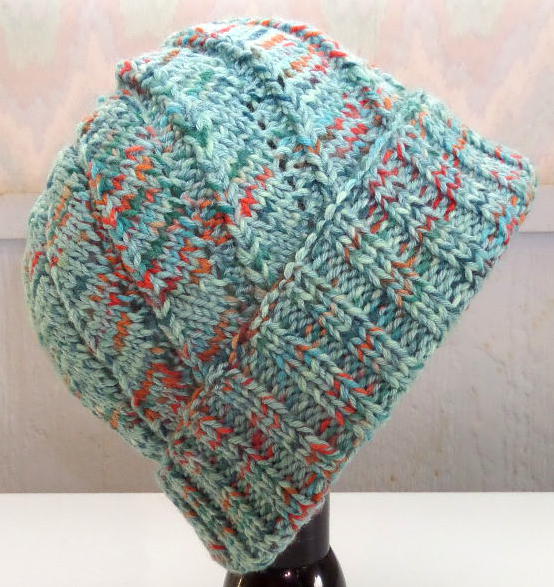 keep it for a while before gifting it.  Stinker!
I made another one using Knit Pick's Stroll Hand Painted Sock Yarn (it was on sale; what can I say?) but this time in colorway 'Koi Pond'.  I've made socks using this same colorway but had extra yarn so made this Swirling LOSY (Left-Over Sock Yarn) Hat.  If neither of the guys likes it, I'm sure Jacob can find someone that will enjoy wearing it.
That's it for now.  Please have a safe, snuggly warm week.
Shirl