A week ago, my wonderful, favorite ever microwave (gifted to me by James) died.  Though everything looked normal, it stopped cooking in the middle of baking a potato.  The next morning I thought it might work after the overnight rest but when I turned it on to heat a cup of coffee, it made a loud, scary POP and still didn't cook.  I was so sad as I loved that microwave!
That evening, when talking to DS Jacob as he was leaving for a weekend trip, I mentioned it and he said I should shop Amazon and find what I wanted.  I could send him the description and he would order it with his Prime access (free shipping – YAY!).  Not wanting to bother him while he traveled, I waited until he returned home.  Making a long story short, a Samsung microwave and a surge protector are scheduled to be delivered today.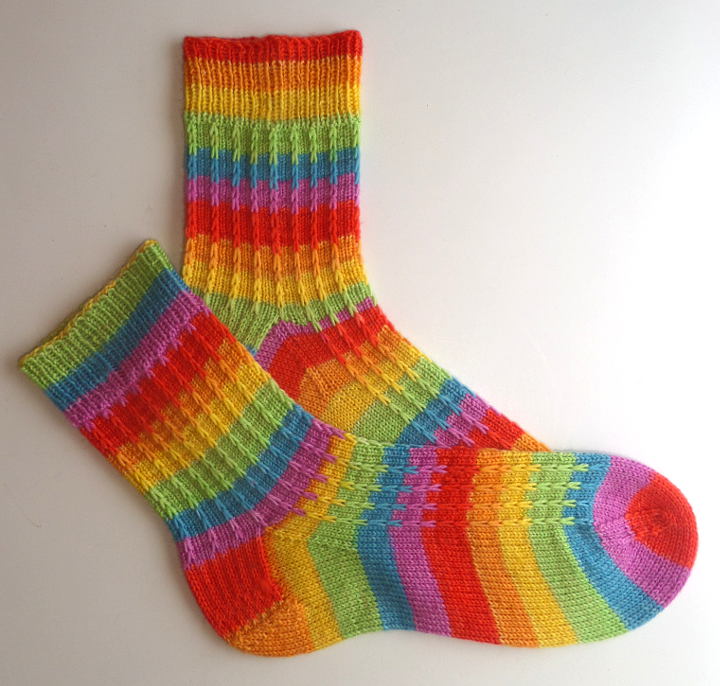 Sadly, I threw my back out last evening.
I've wheeled the dolly into the driveway in hopes I can talk the UPS man into putting the package on it for me to bring inside.  I doubt I'll be able to lift it today to put it on the counter but at least it will be safe and dry.  I also need to move the dead microwave off the counter where it still sits.  Lots of back work for a radically aching back!
On to more pleasant things — since we've already celebrated this gift-giving season, I can show what has kept me busy recently.
With DS's lady having an early December birthday, I like to have a gift for her.  Since she is partial to rainbow color combinations, I made these ridged drop stitch socks using Knit Picks Felici yarn in colorway Rainbow (discontinued) on size US 1.5 needles.  Upon seeing them, she loved 'em but no matter how hard she tried, they did not fit.  They didn't have enough stretch to get past her heels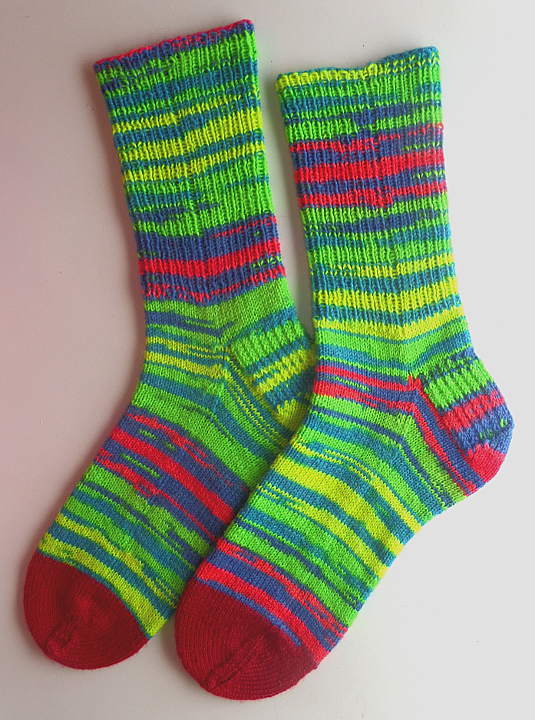 and ankles.  I think she will give them to her skinny little sister or someone whose ankle is narrower.  I will knit a replacement pair as soon as new yarn arrives.
I also knitted another pair for Jacob.  This neon-colored yarn was supposed to be self-striping (forming perfect, equal stripes as it's knitted) but even using the included pattern and trying different sizes, the stripes are mostly streaks so I call them Disco Camo socks.  The colors are wild!  The yarn is called Neon Now (discontinued) and were knitted on US 1.5 needles.  The red toes are from yarn found in my stash.  Thankfully, Jake enjoys crazy, miss-matched socks!
After recently receiving an old shirt from Jake that needed minor repair and seeing how well he has cared for it (it was the first office seersucker shirt I made for him), I asked if he needed more.  I was thrilled to see he outgrew his 'throw it in the floor and walk on it' era. He admitted not needing more but his mom-made seersuckers are his favorite shirts and more added to the rotation would be grand.  I immediately ordered seersucker fabric in colors he doesn't already own.
Originally, I had hoped to have 5-6 new shirts made for gift-giving but with health inconveniences and other interruptions, I was only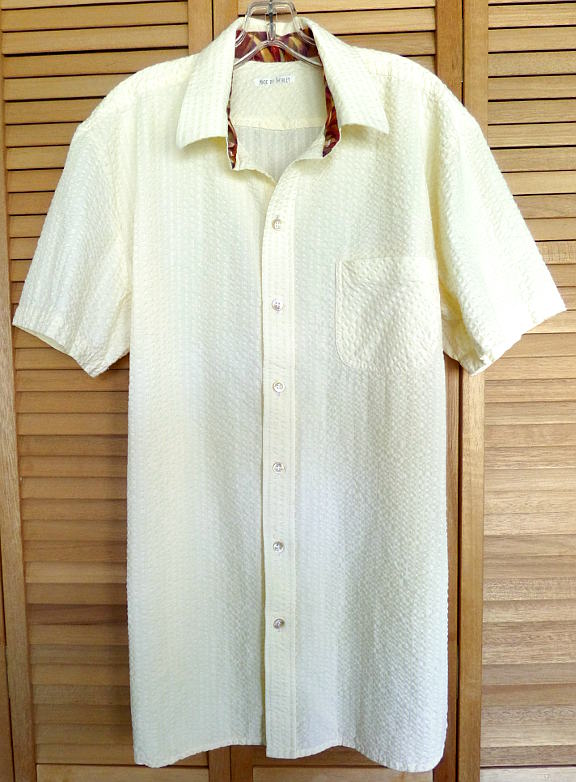 able to finish two.
The first is solid yellow with tiny golden stripes (not visible in the photo).  It's  really pretty fabric and I paired it with a yellow, gold, red and brown flame print fabric inside the collar stand.  The buttons are antique real mother-of pearl.  The pocket and back yoke were cut on the diagonal to add interest.  It has a standard collar.
The second is purple tiny plaid (which my camera is finding hard to render!)  This is standard 100% cotton seersucker to which I added a floral multiple purple and red inside the collar stand.  The pocket and back yoke are cut on the diagonal and the collar is standard.  White pearly buttons were used with one added as an accent on the pocket.
Jacob was very happy to receive both these shirts and after trying on, commented they fit perfectly.  I am so glad he is pleased and have already begun cutting two more from recently acquired SALE (!) fabric.  You will soon be seeing orange, pink, spring green and white seersucker shirts.
I have also knitted a Sockhead hat in black/grey yarn for Jacob.  I haven't had a chance to photograph it yet but since it wasn't finished for gift-giving, you will see it and he will receive it soon.  As usual, I am also knitting another pair of socks.
Since my life is no longer dictated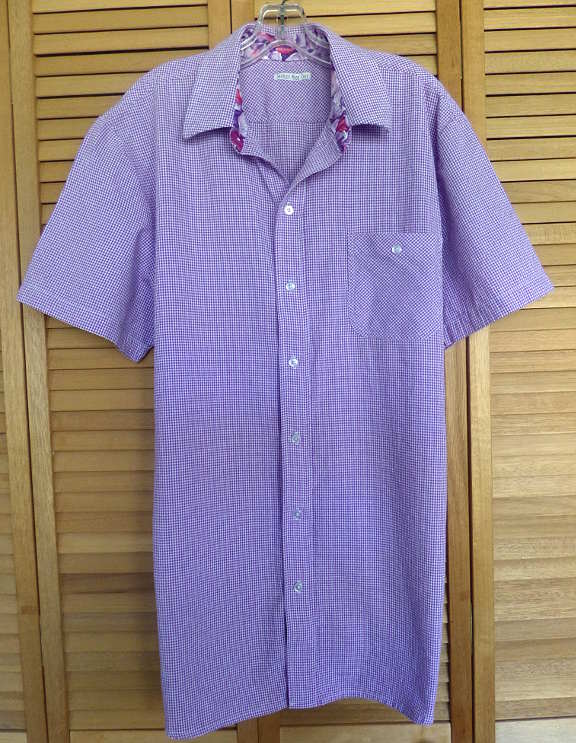 by the calendar, I'm considering having my personal holiday dinner tomorrow.  I've already begun making 3 Bean Salad which always benefits from being refrigerated overnight.  Tomorrow, I'll cook a bone-in rib-eye roast (2.5 ribs), a thickened au jus with mushrooms and garlic mashed potatoes.
If that doesn't make my back feel better, there's no hope!!
No matter how you choose to celebrate the season or if you choose not to at all, I wish your coming week is filled with joy, good food, warmth and happiness.
Merry, merry!
Shirl