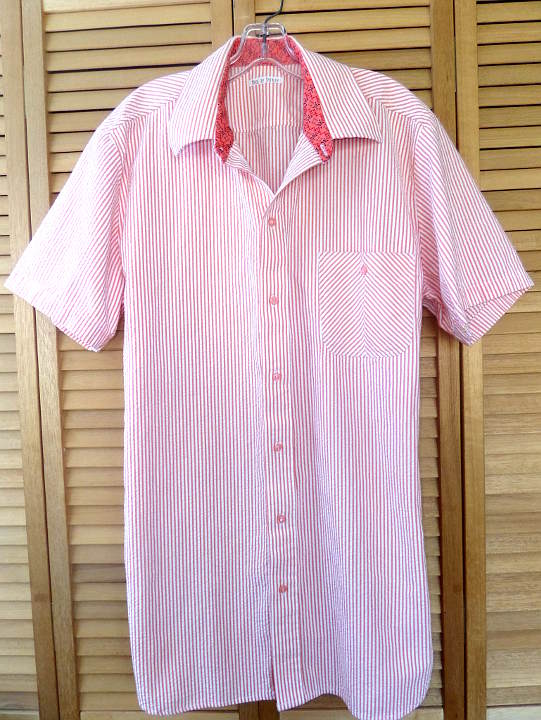 Throughout my life, I've always heard old people remark about how fast time passes.  Now that I am older, I am amazed how true it is.  It seems only yesterday was Christmas but the new year is already 1/12 gone.  As Joni Mitchell says, it's time to 'drag your feet to slow the circle down'.  Life is certainly short!!
I've continued sewing and knitting through this winter season though I'm not accomplishing a great deal.  The last few weeks have been plagued with pain from a strained lower back and a foot injury which has slowed me down a bit.  Cool weather seems to exacerbate the issue.  Thankfully, I'm feeling better every day.
I've made another seersucker shirt for Jacob.  This one is salmon and white striped and I included a matching print on the inside collar.  (The color is more orange than the picture depicts.)  As usual, the front pocket and back yoke are bias/chevron cut and sewn.  Also included are French seams so no raw edges are exposed inside the shirt.  He likes it a lot and has added it into his shirt rotation.  I have three more seersucker fabrics awaiting cutting and sewing before I consider retiring the concept.  A closet filled with similar-textured shirts is enough!
In the knitting scene, I have continued making socks but have nothing finished at present to show.  I'm busy making replacement rainbow-colored socks for Stormy as the ones given for her birthday did not fit.  The new ones are bolder colored and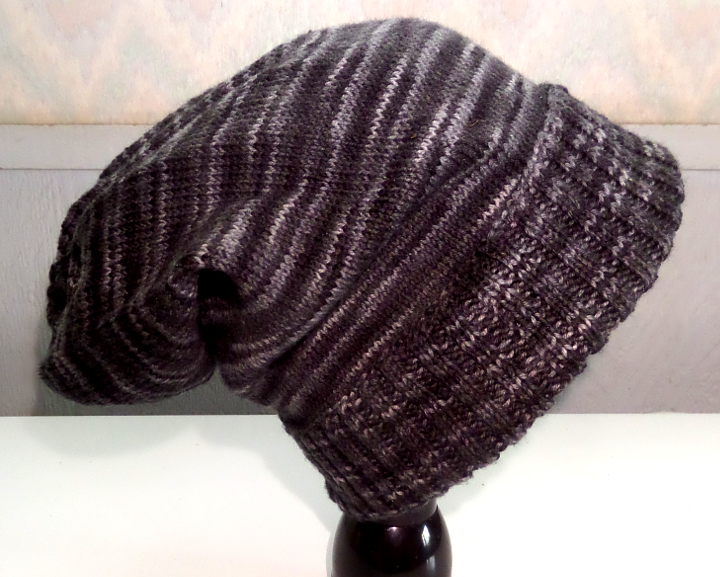 a stretchier design.  They should be finished this week.
I finished and gifted a Sockhead hat for Jacob.  This was made using Knit Picks Stroll Fingering yarn in 'Train Station Tonal' colorway on size US 3 needles.  I enlarged the pattern (making it 8 stitches wider) to fit his big head.  He tried it on and was pleased with the fit.  I hope he enjoys it!
To add something new and fun to my knitting basket, I've assembled some progress markers using glass beads I made myself.  I haven't gotten out the torch and made beads in a while but these were in my stash and after purchasing some jewelry findings, I had everything needed to assemble the markers.  I use them to mark knitted stitches, rows, pattern changes or to show progress during any given time span.  I've really enjoyed using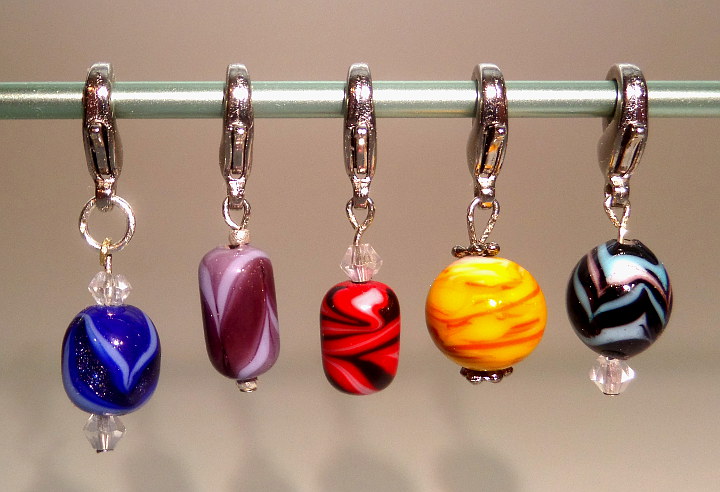 them and am so glad I found a good purpose for the beads. The photo is a close-up with the yellow bead being less than 1/2″ in diameter.
No matter what your plans for the coming weekend and the rest of February, I hope you find peace, smiles and discover all you seek.
Shirl