Good grief!  Another month has slipped away and other than noticing the vast amount of rain we've received, it seems it successfully snuck right on by!
This week, I had the 'pleasure' of getting my car inspected.  In Texas, when one purchases a new car, it comes with a 2 year license/inspection sticker.  It appears my 'new' car has now celebrated it's second birthday and requires a new sticker.  My car CAN'T be this old…. it still looks and smells new and only has 10,200 miles!
For the past 40 years, hubby or son has taken care of this chore but this time, it's was up to me to decide when/where/how to handle it.
Sadly, in my tiny town, there is just one inspector and he's only available on the weekends.  Since I was required to renew my sticker before March 1 and it was already the 26th, I had to drive to a neighboring larger tiny town to have it done.  Thankfully, I found a friendly (though a little kooky) inspector able to do the job immediately.  $7 later, I had the required paperwork to take to the Tax Assessor's office (with parking over 1/2 block away!) to purchase the license/inspection sticker; all done while dodging raindrops and road flooding.  At the TA's office, I handed her the inspection paperwork, the registration renewal, proof of insurance and $74 and in less than 30 seconds I had my license/inspection sticker.  Why isn't there a drive-thru for this?  This is way more hassle than it needs to be!
With all the nasty, grey weather we've experienced (today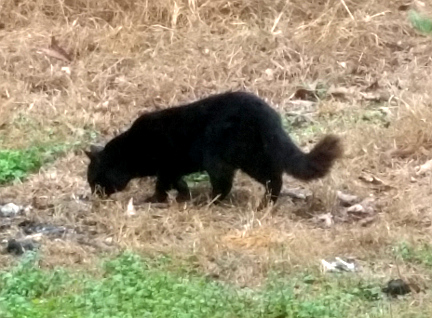 included!), I've spent some time watching out the window, hoping Spring will soon arrive.  I noticed a black cat  hanging around and since I'd like a cat to stay near to control rodents and other vermin, I put some meat scraps and trimmings in a bowl and put them outside.  I called 'kitty, kitty' and came back inside.  The poor thing was starving and quickly overcame its shyness and ate its fill.
Every couple of days, I spot the cat and with the same routine, it has eaten more kitchen scraps.  Because of the solid black coat with a hint of brown on the end of its tail, I've name it Scorch because it looks like the tail got a little close to a fire.  Today when Scorch came looking for food, I noticed a fat tummy.  It looks like a female and I may end up feeding a whole passel of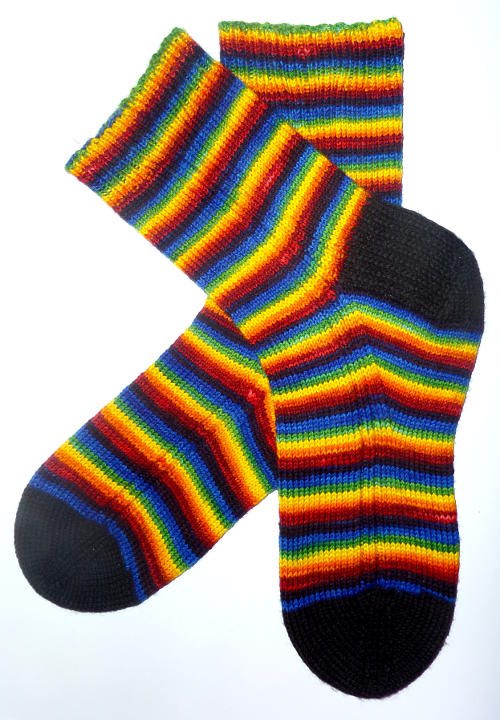 kitten hatchlings.  The last time this happened, after re-homing several cats (including the mama), we ended up with 3 house cats.  I hope that doesn't happen again!  A cat or two is a blessing out in the country but a flock is much more than I need!
I've had plenty of time to knit.  First, I made rainbow socks to replace the originals that did not fit Stormy.  These were made of self-striping Biscotte yarn in colorway 'Rainbow' (a little 'spendy' but a wonderful yarn!) on size US 2 needles using My Knitted Heart Vanilla Socks pattern.  The extra ribbing on each side gave the needed width for a good fit.  The pattern was super easy to follow and I will knit it again (maybe for me!!).  The black toes and heels were made using Knit Pick's Stroll yarn from my stash.  I never try matching stripes on one sock to the other but accidentally these match perfectly.  The socks are super-bright and I hope Stormy likes them.
I also finished a pair of socks for Jacob made using Valley Yarns Leyden (no longer available) on US 1.5 needles using Petty Harbour pattern.  These socks disappointed me in two ways.  First, I was absolutely taken by the photo of the yarn when I ordered it.  In my opinion, though it is really nice yarn, the color knitted up a bit muddy.  Second, the pattern makes a thick fabric so it was slow to knit and in my opinion, too thick for the foot of the socks.  I made those in plain stockinette stitch instead.  The socks are OK, but nothing that excites me.
After knitting 14 pairs of socks for others,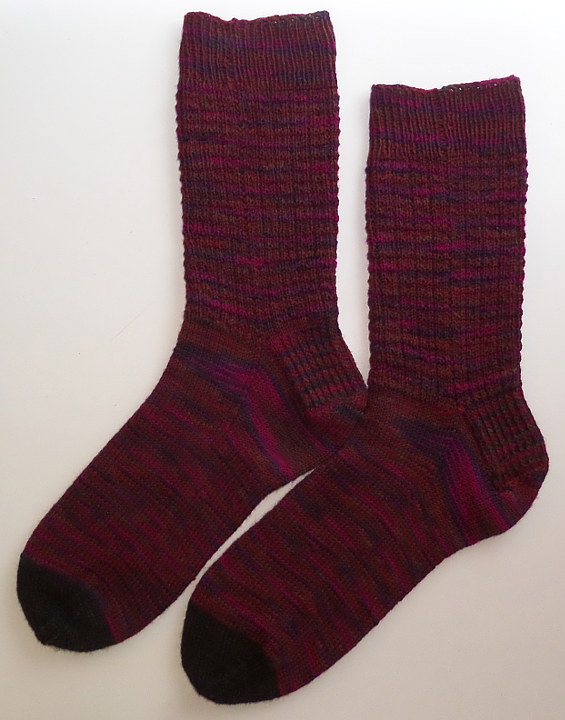 I've decided to make some for myself.  Thus far, I'm about halfway finished the first sock of a pair of anklets using a self-striping yarn in purples and blues.  I like them a lot and know they will be nice to wear on the last of this winter's cool days.
I have a stack of new fabric with lots of plans for sewing.  Hopefully, the urge will strike.  I NEED some new things for spring.
If you don't do anything else in the coming days, HAVE FUN!
Shirl