Enjoyed a 3 day visit from DS + girlfriend this past weekend.  I love having them here, talking, laughing, grubbing down and comparing life-notes.  They are both such wonderful people!!  They were very grateful to receive the t-shirt rug and have already decided where it will be used in their home.
Since finishing the rug, I've searched for a project that doesn't require I drag out a lot of stuff.  I've settled on knitting.
Many, many moons ago (38 years to be precise), I learned a couple of basic knitting stitches from my MIL.  Though I never learned the proper way to hold the needles, I figured out how to follow patterns and knit some intricate sweaters, afghans, baby items and lace.  I don't know why but I quit knitting a couple of years after learning.  Recently, I've found some patterns for knitted items I would like to own so I brought out my sets of needles, stitch holders and yarn and began teaching myself (with help from YouTube) to knit in the round using the magic loop technique.  Gee willies, it's taking me more than a minute to learn this!  My hands feel so stupid!
I have managed to knit one complete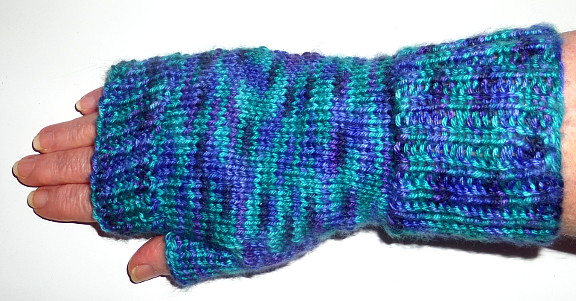 fingerless mitten (with several mistakes).  I am finished with half of the second one (without mistakes, thus far).  It's still slow going as knitting memory returns to my hands but I'm excited to be learning!
I'm really enjoying it and today purchased yarn for a couple more projects.  I plan to make another pair of fingerless mittens along with a long scarf I'll enjoy using during the approaching winter.  Our old farmhouse is cold so I'll have plenty of opportunity to use cuddly, warm items and I'm hoping the fingerless mittens will offer the ability to continue doing handwork while the weather is miserable.  We shall see!
Shirl