I wish I could claim to have been too busy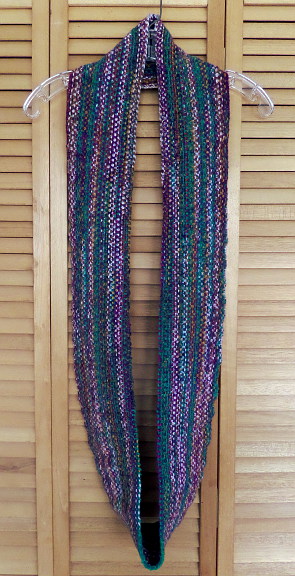 to blog but that's just not true.  The only way I can explain my absence is to say I've been hibernating.
The holidays took their emotional toll and when I feel down, I tend to crawl inside myself and wait for better days.  It hasn't helped that I've been sick off and on for six weeks, first with an upper respiratory infection, then a serious bout of cellulitis.  With the help of multiple antibiotics, I finally feel I'm on the mend but doctors have warned with my compromised immune system and aging, I can expect increasingly severe illnesses more often.  Oh what fun!!
In the meantime, I've enjoyed visits from Jacob.  It's a great comfort knowing when I'm in need, he drops everything and comes.  When he's not here, he checks on me daily.  I am so fortunate my only child grew up to be compassionate and kind.  I couldn't love him more!
As I'm feeling better, I've started sewing 2 new shirts for Jacob.  I hope to have them complete (and photos shown here) before his next visit.
I've also picked up my knitting needles again.  I've found following patterns and counting stitches is a terrific distraction from 'the sound of my own gears' but doesn't interfere with movie viewing or conversation.
After winning some incredibly inexpensive (and not so pretty) yarn on eBay®, I've knitted another scarf.  Folded in half, it is 37″ long.  It is knitted in the round with linen stitch in Mardi Gras colors of purple, green, gold and white.  I already own several shirts in these colors so this will be a nice accessory for chilly days especially prior to Ash Wednesday (when Mardi Gras ends).  The linen stitch makes a dense fabric so knitting it is slow going while mindless, making it a perfect pattern to knit during my sickest days.
Also, while I was sick, my across-the-road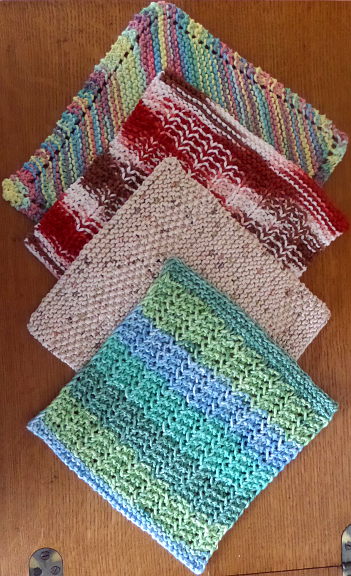 neighbors sent over several tubs of homemade soup.  I can't say how much I appreciated it and after racking my brain on how to show my appreciation, I've baked cookies to fill the returning tubs and am gifting a couple of hand knitted cotton washcloths.  I've made several and will share them with friends and family members.  They are perfect for body/face cloths as the nubby stitches act to exfoliate and feels invigorating to the skin.  They also make excellent dishcloths with the texture offering good scrubbing action.  I've really enjoyed knitting them and look forward to gifting them along with bars of my handcrafted soaps.  I plan to make several more since I love using them too!
After baking 2 loaves of yummy banana nut bread yesterday (one for the freezer) and not putting away the baking supplies when I was finished, today I plan to make cookies.  I'm expecting visitors in the coming weeks and it would be nice to have homemade treats to serve and send home.  I love using wholesome ingredients and reducing refined sugar.  Today, I'll bake chocolate chip cookies by exaggerating Betty Crocker's recipe (more chips, more nuts!). Before I lose interest or my energy runs out, I hope in the next few days to bake nutty peanut butter chocolate chip cookies and oatmeal apple walnut cookies.
Shirl