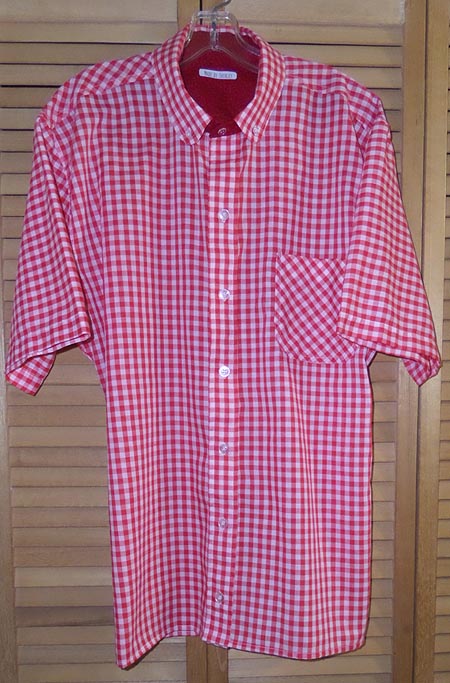 Hope all U.S. citizens enjoyed their long Independence Day weekend.  It felt like a mini vacation here and I loved it.  Bob cooked 3 whole chickens and a rack of baby back ribs on the smoker.  I made potato salad and fresh bread to include in our feast.  Much of the smoked meat will be frozen to use in recipes later.
After watching a few modern TV shows and noticing how popular men's gingham shirts are, I decided a style-conscious guy can't have too many and in a variety of colors.  I dug in my fabric stash and found a red 1/4″ gingham remnant.  There wasn't much but upon laying out the pattern, I found with using contrasting fabric for the inside yoke, collar underside and collar bands, I could barely make the shirt if tuck-in tails were eliminated.
Upon checking with Jacob to see if he would wear a non-tuck-in shirt, he said, "Yes!" so I proceeded to make it.
After cutting out the shirt, there was only a 4″ square of fabric remaining …. not enough to replace any piece of the shirt if an error was made.  I rarely mess up while making shirts but I figured it might happen on this particular one.  Thankfully, it didn't!
This shirt features a rounded, button-down collar and the outside yoke and pocket cut on the bias.  I think it turned out nice.  When Jacob first saw it, he exclaimed,"Picnic shirt!" and tried it on.  It fit perfectly and he took it home. He messaged yesterday that he had worn the shirt over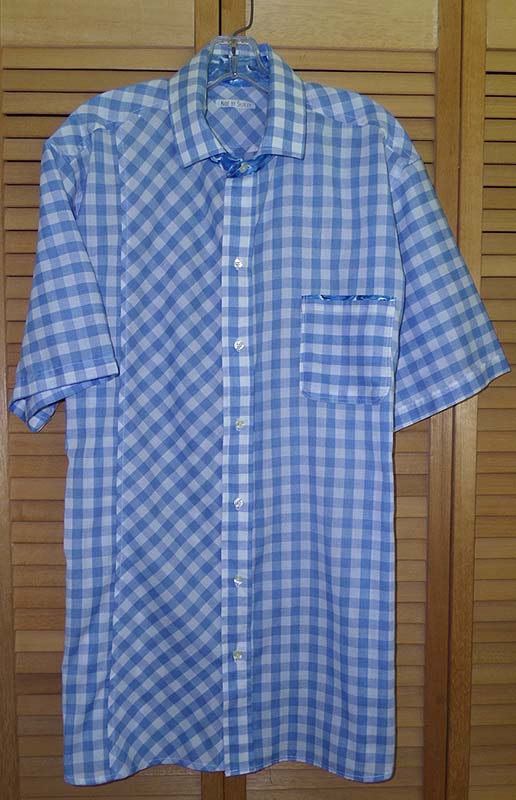 the weekend and he loves it.  My fear of it being too short were eliminated and I was happy to note he likes this 'Cafe Camo' shirt.
Since deciding multiple gingham shirts should be in a well-dressed man's closet (and finding an awesome sale), I ordered and received blue, huntergreen and tiny black seersucker gingham fabric.  I cut into the blue immediately.
I received an ample amount of fabric which opened more possibilities for cutting the pattern.  This shirt includes a bias panel on the right side, a bias yoke and lining, contrasting collar band and pocket accent.  The collar is narrowed and shortened for a 'shark collar' look.  I hope he likes it.
Our tomato garden has continued to flourish.  Since we have more fresh tomatoes than we can eat (though we try REALLY hard!), I've decided instead of letting them rot, I'd can them.
Our tomatoes are so flavorful.  They are 100% organic (REALLY!) and absolutely no chemicals were used whatsoever in the garden.  We are fortunate there are much fewer bugs to harm the plants this year.  Praises go to late frosts!  The only fertilizer we used was compost we produced ourselves.
I love cooking with fresh canned tomatoes and when I find them to purchase, I can up to 50 quarts per year.  Thus far, I haven't found any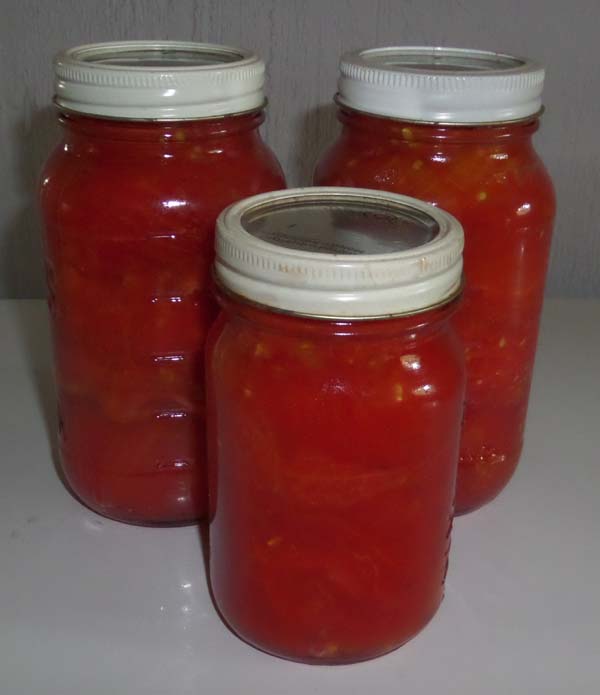 in our area so I'm hording the ones we have.
This was a tiny canning project (2 quarts and 1 pint) but I'll appreciate these jars when I use them in our favorite recipes (Mammie noodles, gumbo, spaghetti, etc.).  As more of our tomatoes ripen or if I'm fortunate enough to find some to purchase, I'll can more.
Shirl