Yes, I'm still alive and kicking.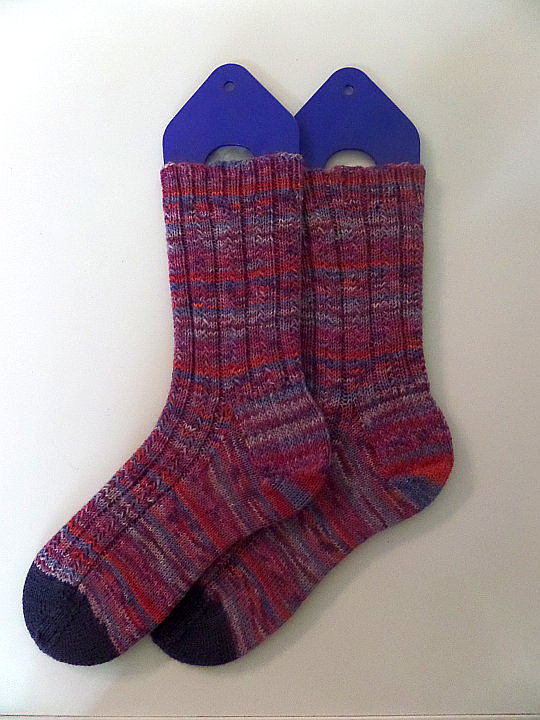 Along with the list of chores one must do to survive well, warmer weather adds mowing to the list.  Mowing entails sneaking around Mother Nature to avoid rainstorms or blistering hot temperatures.  It's been a challenge and I completely appreciate when DS comes to visit with his riding mower in tow.  For more than just this reason, I wish he visited more often!  Though it's only been 10 days since we last cut, it's up to my knees again.  UGHHH!  Wish I had something easier to use than a gas-powered push mower, though it cranks on the first pull every time!  Along with the sweat comes small blessings!
During the hottest part of most days and evenings, I continue to knit socks.  The first socks pictured were started on May 1 and finished on May 20 with several days of no knitting during that time.  They were made for Jacob.  The main yarn was leftover from the first socks I ever knitted (Opal Kullerkeks from Germany) and toes knitted with Knit Picks Stroll yarn in Dusk color.  The pattern was free on Ravelry's website called Simple Skyp Socks by Adrienne Ku and made on size 2 needles.  I still have some of the Opal yarn left and hope it is enough to make baby socks or a baby hat.  (I have a pregnant friend.)
On the same day these Opal socks were finished (May 20), I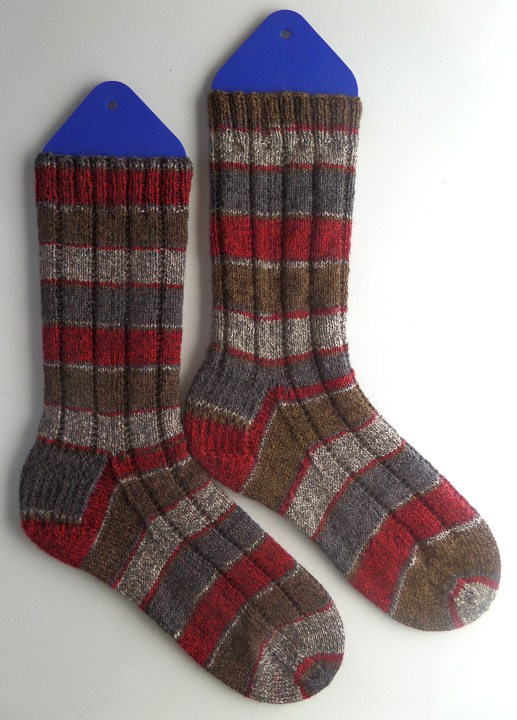 began making another pair for Jacob using Patons Kroy Sock yarn in Grey Brown Marl colorway.  I bought this yarn on a whim from Hobby Lobby and I'm so glad I did.  I love how they turned out and Jacob likes them too.  I purposely allowed the stripes to mismatch from one sock to the other as I think it adds interest and a quirkiness to an otherwise often boring clothing item.  These were made using another free Ravelry pattern called Vanilla Latte by Virginia Rose-Jeanes on size US 2 needles.  These were finished on May 31… sock knitting is getting faster!
I have more to show but better head outside and cut a few strips of grass.  Hope you have a wonderful holiday and celebrate in your favorite way.  Me, I'll be making Creamy Chicken/Spinach/Broccoli Enchiladas and eating some watermelon that grew voluntarily in our old garden patch.
Shirl