I'm finding it rather amazing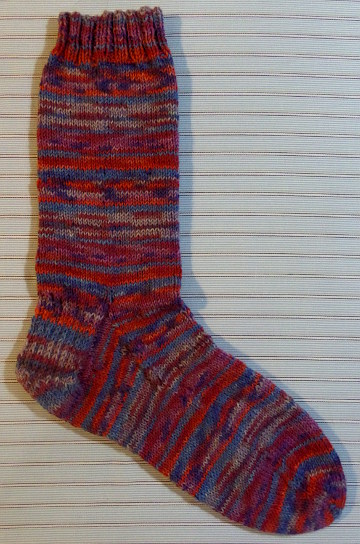 that knitting socks is a butt-kicking experience.  I've finished this first sock after ripping large sections out 7 times only to achieve a FAR less-than-perfect sock.  Mistakes abound!!
Onward and upward!
I have begun knitting this sock's mate (with fewer mistakes, thus far) and if it turns out nice, I'll frog (rip-it, rip-it) this first sock and re-use the yarn to make a new one.  I am determined to successfully knit a pair of socks, though I truly can't explain why.
Here in Texas, I live most of the year in sandals and flip-flops and I already own a drawer full of socks to wear on rare cold days.  It doesn't make a lot of sense that I'm hell-bent to knit socks…. but it's the challenge.  In my mind, if one can successfully knit socks (with all the fiddly components), one is an accomplished knitter.  It also offers experience using fine-gauge fingering yarn, I've seldom used in the past.
I'm learning that my radical allergy to wool either has eased as I've aged or this particular yarn (75% Merino Superwash wool, 25% Polyamide) doesn't trigger itchy hives.  That's definitely good news after spending a lifetime avoiding yarn and fabric I've loved when I see it contains any wool.  I'm excited to be opening my fiber horizons!
There was more washcloth knitting done recently.  I gave a few away as Valentine's gifts and have received great reviews and requests for more.  I failed to take photos of some of them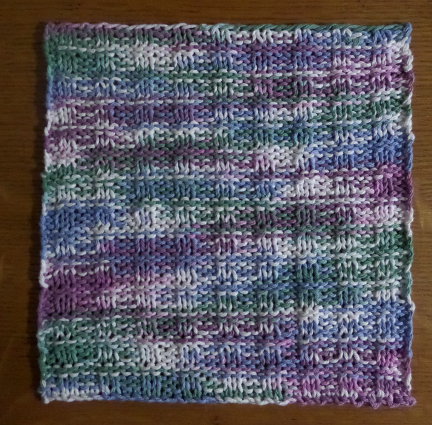 but this one is the newest.  I've already purchased yarn to make a few more.  I love them for their mindless knitting and the resulting useful and pretty products.  They make a great pairing with my homemade, luxury soap.
Hope the remainder of your weekend is filled with happiness!
Shirl