Had several days of celebration with s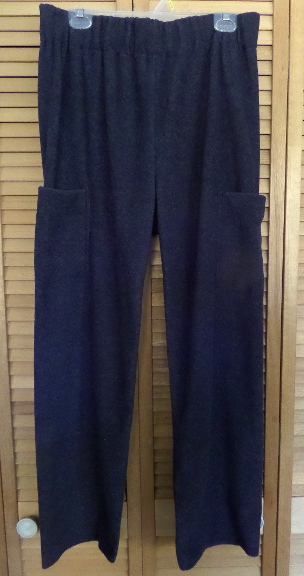 on Jacob before Christmas.  We visited, giggled and ate like kings (standing rib roast, yellow and red potatoes with green onions and Texas Cream peas from our garden [frozen]) . . . all so tasty!   We had received our gifts from him several weeks ago (the calendar doesn't dictate our lives!) but I recently made things to give to him.
Because Jake's girlfriend/roommate mentioned he wears his flannel PJ pants often, I made him another pair with lightweight navy blue fleece.  These are less obviously PJ's and can be worn outside or for a quick run to the Dollar store (a common occurrence).  Though our weather is currently too warm to wear fleece (80°F!), I have faith we will see cold weather in a few days.
I also made two shirts for Jacob.  Both are seersucker with chevron pockets and back yokes.  The first is charcoal and white stripe with a tiny silver thread along each stripe.  The fabric is gorgeous with a subtle bling when the light catches it just right.  It has a rounded collar and contrasting inner band.  I thought I'd have to hide this shirt to keep Bob from swiping it.  He absolutely loves it and even tried it on to find it fits him perfectly. I've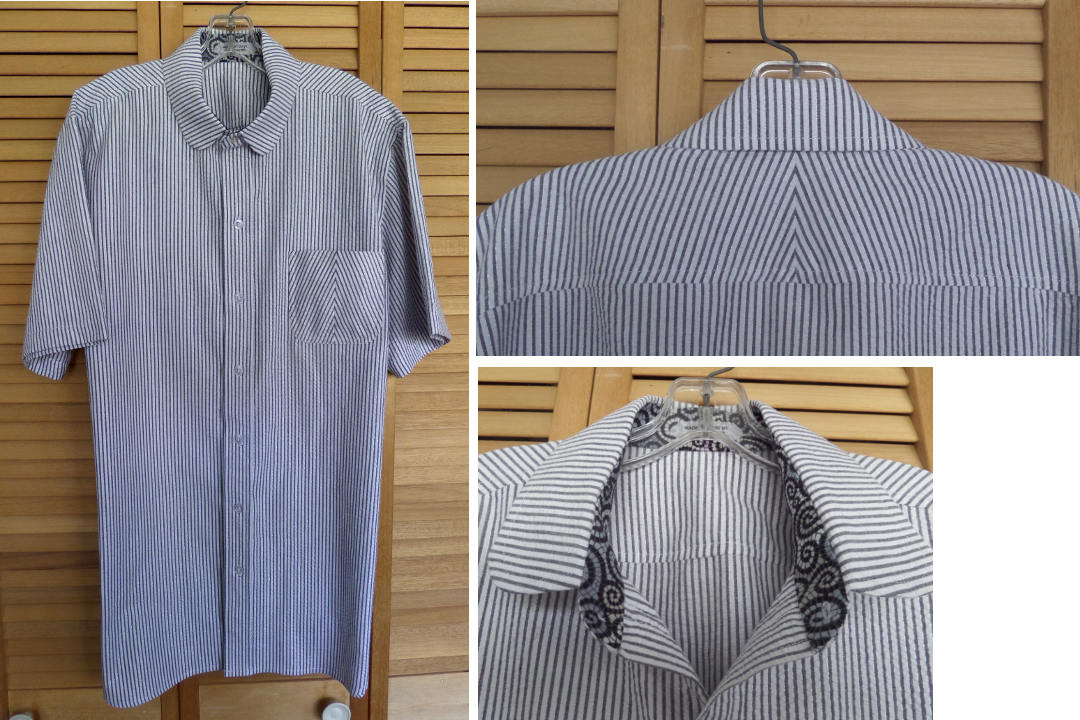 made note to make him a new shirt for his birthday.  With his recent weight loss due to chemotherapy, most of his shirts swallow him.  Though he has a closet full of clothes, I know he would love a new, well-fitted shirt.
The second shirt I made for Jacob is aqua and white stripe seersucker with a standard collar, contrasting collar band and chevron pocket and back yoke.    This is my personal favorite simply because of the color.  I'm a fool for any fabric in the aqua through teal color range.  I find it so appealing.
I also made Jake a huge batch of beef jerky from 2 large shoulder roasts.  I presented him with one stuffed quart bag to enjoy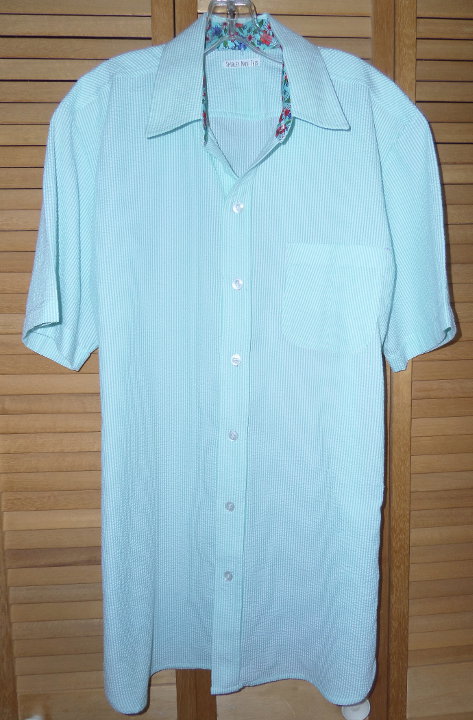 during his visit and saved another bag until he was departing.  He loves the stuff so much, this is the only way to make it last in hopes there's some to share with his girlfriend when he gets back home.  I sent homemade cookies with him too.
Jacob stuck around to take Bob for his recent biopsy at M.D. Anderson in Houston.  We won't get the results until after the first of the year.  Our fingers and toes are crossed the cancer is gone or can be removed via surgery without spread, especially since the oncologist says Bob can't tolerate any more chemo.  The last treatment darned near did him in.
After Jacob departed late Tuesday, I began to get a sore throat and fever.  I had been to the doctor's office several days prior for routine blood work so I figure I picked up a bug there.  The nurse was sneezy.  Jacob was also suffering with an upper respiratory bug when he was here.  Two days later, Bob caught it so needless to say, our house was suffering.
Except for potty breaks, Bob stayed in bed for 4 days, eating nothing and feeling like death-warmed-over.  He's so anemic, I was really worried this illness might turn into pneumonia.  We did nothing for Christmas day but suffer.  Finally a week after it all started, though we are still coughing and not 100%, we are up and eating and handling some of our daily affairs.
I will say, this hasn't been my favorite Christmas season because of illness, Bob's surgery, the miserable 80°F temps/99% humidity and deadly storms in the area.  Last night, the Dallas area was hammered and it looks as if it may be our turn today.  We're prepped and as ready as we can be.
Shirl