I haven't posted lately because I've been busy making gifts.  I've taken a few pictures and will share them after they are given.
We don't celebrate the holidays in any traditional way and never on the day the calendar suggests.  We dance to our own tune and keep things as stress free as possible.  That being said, I still like giving (and receiving) gifts.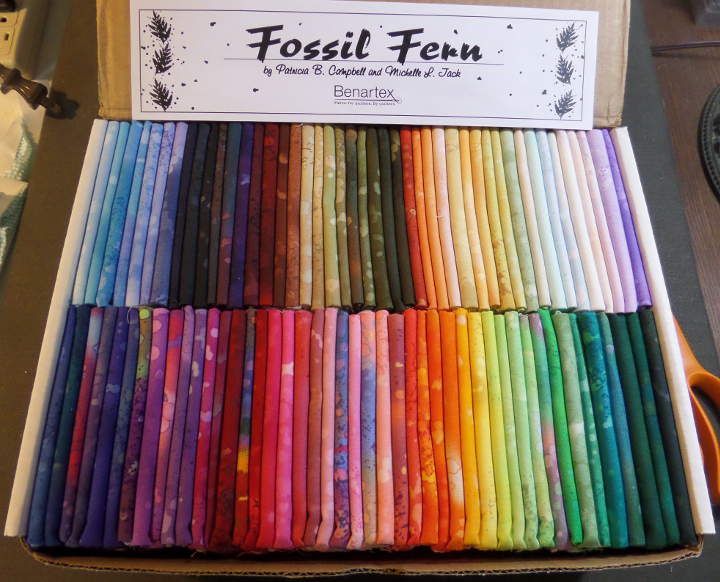 I had a conversation a couple of weeks ago with DH about his illness and chemo treatments.  I frankly told him he CAN'T die because I won't be able to afford fabric if he does.  He chuckled but said nothing at the time.
Late last evening, FedEx came to the door with a weighty package.  I knew I hadn't ordered anything though my name was on the shipping label.  I tried to hand it off to the hubs but he said it was for me.  Hmmm.  I opened it to discover a full pack of 90 (!!!) fat quarters of Benartex Fossil Fern fabric.  I was floored.  Fossil Fern has been a very favorite fabric line for years and I've been privileged to have a very few small pieces visit my fabric stash.
Oh my stars!  I can't believe how beautiful it is and the box full is much too pretty to tear apart and use.  I'll be petting this fabric for a while before I'll bring myself to cut into it.  What a NEAT gift that I'll enjoy for quilting years to come!
Because the chemotherapy treatments have left hubs extremely ill and severely anemic, when he's not too nauseous to eat, I've been feeding him healthy, iron-rich foods.  He's mostly enjoyed eating the bean soups I've canned.  Today, I'm replenishing some of the store with navy beans flavored with lots of ham, garden tomatoes and bell peppers, onions, carrots, yummy herbs and spices.  The house smells super as they simmer.  I'm hoping to pressure can 7 pint jars with enough left for dinner tonight.  We will enjoy them.  I think we need cornbread!
Shirl