Bob's most recent chemo treatment knocked his chin to the dirt.   He has been nauseous, extremely tired, suffered severe headaches, joint aches and generally feels poorly.  He was sent home from his most recent appointment with the oncologist saying he should gain some strength before more treatments.  His next treatment is planned for after Thanksgiving.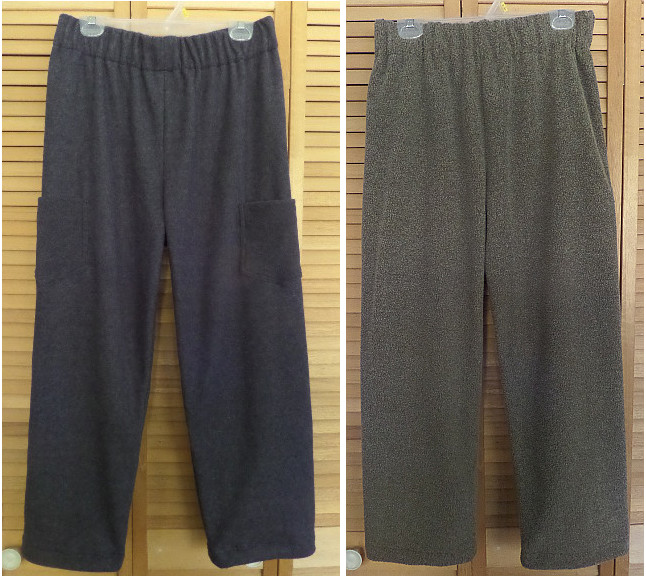 He literally lives in the flannel pajama pants I've made.
As local temperatures continue to drop and the house gets cooler, I decided to purchase some fleece and make warmer PJ pants for Bob.  Along with his weakness, he has felt more chilled and no matter how high we set the central heat, he remains cold.  Fabric Mart came to the rescue by offering a very generous sale on fleece.  Perfect timing!
The dark gray pair are made with polar fleece with a short pile on one side and a knit backside.  They are incredibly soft and comfy.  Today, I finished a pair of heather tan/gray Sherpa fleece pants with a longer pile.  They are a little heavier but still very soft.  He loves them both and they'll come in handy with our temperatures dropping below freezing tonight and tomorrow.  He especially likes that I use 2″ wide waistband elastic for added comfort.
Recently, I've made myself two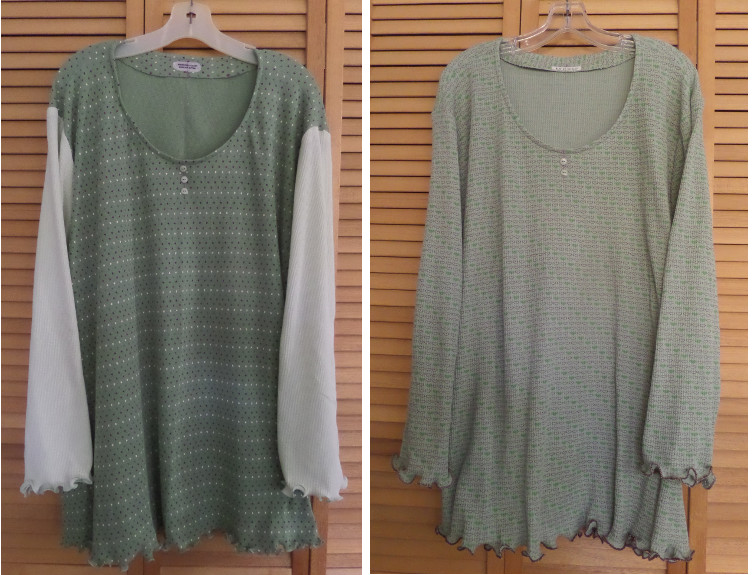 long-sleeved t-shirts from lightweight cotton thermal knit fabric.  I've had this fabric for years and it was definitely time to sew it.
I didn't have quite enough of the darker olive fabric so I made the sleeves with pale green cotton thermal knit fabric.
The cloth is so lightweight, it's impossible to create a flat hem so I made 'lettuce edges' where hems would normally go.  It's a solution I've used often when sewing light cotton knits.  These tops will be worn often around the house during our cooler weather.
Shirl