Had I known this would turn out to be the sleaziest,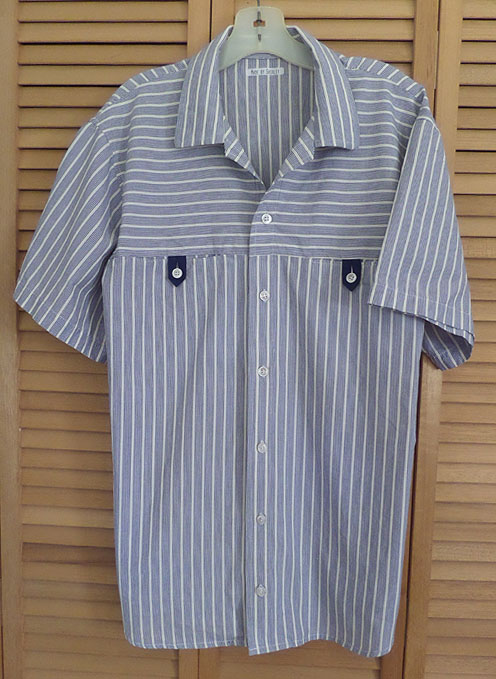 cheesiest shirt I've ever made, I would not have wasted the fabric, thread and time.
I saw this vintage pattern featured on a sewing blog site and liked it.  I located the pattern (McCall's 2379), purchased it and was excited when it arrived in uncut, pristine condition.  I immediately reviewed the instructions and to my surprise, they were sadly lacking if one is attempting to make a quality garment.
I decided to make the shirt exactly as instructed, feeling a sewing pattern company would surely understand a sewist's desire to make nice clothing.  Boy, was I wrong!
I selected a handsome chambray and followed the pattern instructions explicitly.  I found they led me down a slippery slope of stupidity and quality-eliminating shortcuts.  I often tossed the unfinished shirt aside, opting to make something I could be proud to label as my creation.  It frankly took me nearly 6 months sewing off and on to complete this monstrosity.  What a waste of antique mother-of-pearl buttons!
I will present it to Jacob later this weekend when he arrives for a visit.  He can wear it when he mows grass or changes the oil in his cars.   It was a learning experience and I will NEVER make the pattern again…. unless Jacob loves it, at which time I'll redesign the pattern and rewrite the instructions.
Shirl
Update:  Jacob has tried this shirt and though he likes the style, he dislikes the pocket bags and the front facing.  He's most accustomed to dress shirts with button plackets and collar stands where no facing is used.  His sensitive skin prefers pockets applied to the outside of the shirt instead of to the inside.  Fortunately, his father wears a similar size so his less sensitive skin will inherit this shirt.  I'm making note to never make another 'casual style' shirt for Jacob.