The last few weeks have been emotionally bumpy but I've tried to stay busy.  Focusing on individual tasks has been a good distraction and there are MOUNTAINS of tasks needing attention.  I've also re-discovered the joy of cleaning (!).  I love that I can scrub away years of grime and things stay clean.  DH was a mindlessly sloppy person and I had given up on cleaning behind him.  It was one of those battles I quit fighting.
I'm also enjoying re-discovering my independence.  Yes, I can saw lumber, mow grass, change light bulbs, cook on the grill, burn trash, grocery shop and all the other chores DH had normally done.  I'm proud to be finding my 'roar' after all these years.
I was worried I might fall into poor eating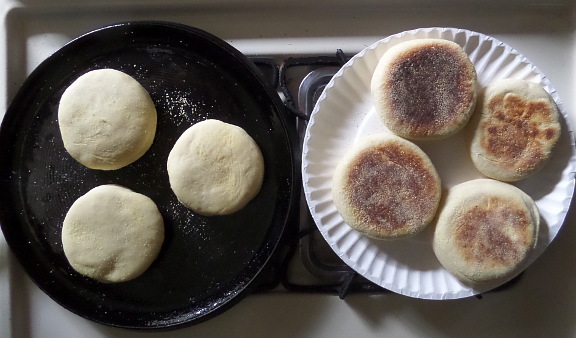 habits as I've witnessed so many of my single peers do.  Yes, I've eaten a couple of 'convenience meals' but still prefer cooking (and eating) from scratch.  I've learned to make half the quantity and often have enough for multiple meals.  Because I enjoy baking, this week (for the first time), I made English muffins.  I love them and am thrilled to find they are so cheap and easy to make.  They're freezable too!
Today, I will bake several versions of oatmeal cookies.  I don't care to eat oatmeal for breakfast but this will be a good way to use the new carton of DH's oatmeal taking up space in the pantry and have sweet treats for Jacob when he visits in the coming days.  I will also make pita bread for quick lunches I know we'll enjoy.
I've continued working on the String Pyramids quilt.  I was originally making it for DH but now it's for his empty bed.  It's pretty and keeps my hands busy as I relax in the evenings.
Shirl